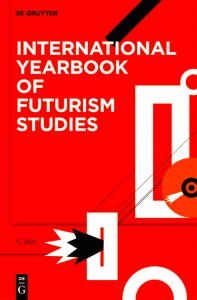 It's official! The First Yearbook of International Futurism Studies has been sent to press.
Downlaod Table of Contents, Volume 1
Download Table of Contents, Volume 2
CALL FOR SUBMISSIONS
YEARBOOKS 3-5:
Yearbook 3 (2013) will be dedicated to Iberian Futurisms. It will contain a mixture of studies on well-known individuals and artist of lesser renown who were inspired by Futurism. The volume will give due consideration to the regions often overlooked and examine how artists and writers from Portugal, Castile, Catalonia, Galicia and the Basque Country interacted with Marinetti and other Italian Futurists. This will include a discussion of the Iberian brands of Futurism (or Futurist inclined avant-garde movements) such as Ultraísmo, Creacionismo and Sensacionismo
Yearbook 4 (2014) will be an open issue and include some 16-18 essays on various aspects of the international dimensions of Futurism with a special focus on architecture, interior design, ceramics, fashion design, typography and graphic design
Yearbook 5 (2015) will be dedicated to Futurist influences on women writers and artists outside Italy. Artists currently considered include Maud Gonne, Rougena Zatkova, Aleksandra Ekster, Olga Rozanova, Varvara Stepanova, Mina Loy, Valentine de Saint Point, Eva KÃŒhn, Edyth von Haynau, Alice Bailly, Siri Derkert , Agnes Cleve , Hilda Doolittle, Kate Lechmere, Jessica Dismorr , Helen Saunders, Concha Espina, Maruja Mallo, Tatiana Vechorka (Tolstaia), and Norah Borges.
For more information and offers of contributions please contact Günter Berghaus.