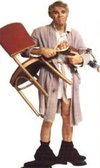 Someone recently pointed out to me this passage from Steve Martin's Born Standing Up: A Comic's Life (p. 141).
Or invoking a remembered phrase from the magic shop, I would shout, "Uh-oh, I'm getting happy feet!" and then dance uncontrollably across the stage, my feet moving like Balla's painting of a futurist dog, while my face told the audience that I wanted to stop but couldn't.
"Steve Martin's Lifelong Education in Art" from the New York Times (April 1, 2001)
Thanks, Dena!