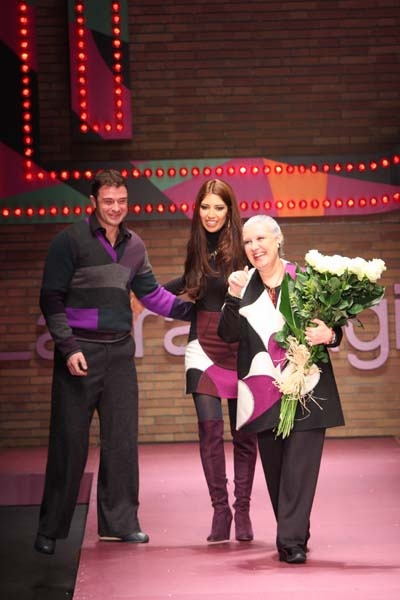 Biagotti's Fall/Winter 09/10 Show:
In the year celebrating the centennial of Marinetti's Manifesto on Futurism, Laura Biagiotti has been inspired by the artist Giacomo Balla, of whose works she is a passionate collector. Laura's Future-Women wear outfits with avant-garde embellishments, prints, and motifs given a contemporary twist. This energizing collection is freely based on the ideas of Balla who in his "Antineutral Clothing" manifesto proposed a new aesthetic code based on agile, dynamic, joyous, illuminating, volitive, asymmetrical clothes. Here, then, are bold yellow and extreme purple asymmetrical shawl-collar jackets that follow the models' movements on the catwalk. Light bounces off chiffon with sparkling embroidery. Detailing inspired by a study of the applied arts consists of abstract compositions with floral and geometric touches. Sumptuous fabrics are irresistibly versatile: cashmere, iridescent velvet, taffeta, organza and mikado are used for clothes with emphatic shapes and for sleek, slim silhouettes. The aristocratic softness of cashmere is enhanced with delightful new elements: bright color contrasts, crisscrossing, trompe l'oeil effects on collars and scarves, and unique patchwork patterns. The catsuit in cableknit cashmere or layered purple and fuchsia panels is the quintessential futurist garment. Feminine glamour flourishes in knitwear, the distinctive emblem of the label, which focuses on flowing, expanding lines, from the asymmetrical two-tone handkerchief poncho to the sheath dress that redefines the silhouette. Shapes sculpted like works of art are enriched with special cuts and details: suits, jackets and coats have constructed shoulders, darted pants are slim leg or distinctively wide-legged, and design-skirts graze the knee. Fur with futurist intarsia and reversible stoles can be worn day or night. The color palette is distinctly Future-Laura: Biagiotti white veers off into skin tones and makes room for strong shades such as fuchsia, sulphur yellow, violet, yellow, saffron, and gold. Gray and black are always paired up with splashes of color and graphic patterns.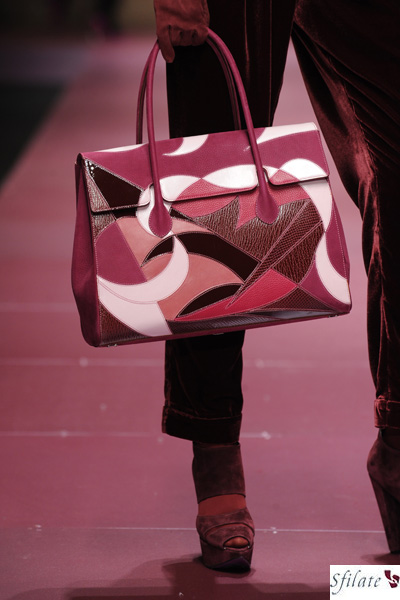 The Bal-Bag, produced in a limited edition for the centennial, comes in the three hottest models of the season: the Kelly bag, the clutch, and the half-moon shoulder bag designed by Balla himself in 1916. On the bags, opaque leather intarsia alternates with patent leather in colors of the palette to reproduce the striking, rapid lines that made Balla one of the most important figures of the Movement. Futurist flowers decorate belts that cinch the waist, while wood and enamel buckles on patent leather belts accentuate the figure. Wide knit collars keep out the cold in winter and can be transformed into hoods: fashion is also about using your head! Fur stoles sensually embrace evening gowns, jackets, and cashmere sweaters. Plexi-tortoiseshell, black, fuchsia, and gold are the colors of eyewear that lets you boldly gaze into the future. Ankle boots with a glossy, painted futurist heel and pumps with a double strap are made of metallic finish leather. Low boots with corset-like laces alternate with architectural banded platform sandals on the catwalk. Boots in nabuck and suede are stretchy and flexible.