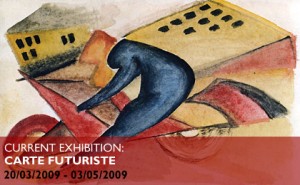 March 20 – May 3, 2009
The Vigeland Museum, Oslo
*The exhibition will travel to München, Bratislava, Warszawa & Kiel
Curated by Maurizio Scudiero and Davide Sandrini
*Maurizio Scudiero and Davide Sandrini has written a short introduction to Futurism.
The text in english can be read here.
The exhibition Carte Futuriste is a presentation of 15 works on paper by Italian Futurists. Among the artists presented are Giacomo Balla, Carlo Carrá and Umberto Boccioni.

This presentation is made in connection with the Centenary for the "Futurist Manifesto", published by the Italian poet Filippo Tommaso Marinetti, in February 1909.

Carte Futuriste is a touring exhibition, initiated by the Italian Foreign Office in Rome. The exhibition in Oslo is a collaboration between Istituto Italiano di Cultura, Oslo and the Vigeland Museum.