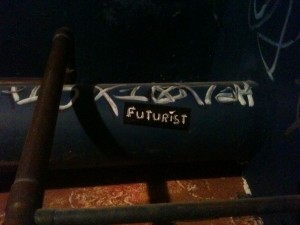 Photo courtesy of Jeremy March. Futurist in the Tea Lounge Bathroom. Park Slope, Brooklyn c. 2011
Most of the updates previously posted in these bulletins are now more readily available on the FACEBOOK page.
A Selection of Recent Articles:
Chicken With Ball Bearings: How To Cook Like A Futurist via The Awl
Futurists and Their Exhibitions via Steven Heller/ Print Magazine
How Futurist Art Inspired the Design of a BMW via Smithsonian – see photo gallery
"Italian Futurism and Cubo-Russian Futurism" by John White (The Routledge Companion to Experimental Literature, 2012)
"Structure and evolution of two cultural commons: Italian Futurism and Milanese Design" by Paola Fiorentino and Martha Friel (Cultural Commons: A New Perspective on the Production and Evolution of Cultures)
"'Barbari civilizzatissimi': Marinetti and the futurist myth of barbarism" by Lucia Re (Journal of Modern Italian Studies, Volume 17, Issue 3, 2012)
"Tropes of Progress in F. T. Marinetti's Early Futurist Texts" by Aaron A. Toscano (Marconi's Wireless and the Rhetoric of a New Technology)
"A Future by Design: Giacomo Balla and the Domestication of Transcendence" by Ara H. Merjian (Oxford Art Journal, Volume 35, Issue 2)
Misc.
Günter Berghaus' International Futurism 1945-2009: A Bibliographic Handbook will be available in July 2013
Giacomo Balla cartoon for kids! via RaiEdu
Paolo Ventura and now he has created the limited-edition artist book Il Pittore Futurista
Luca Buvoli has a solo show of works from Meta-Futurism at Gallery Hyundai in Seoul, Korea (September 8 – October 12, 2012)