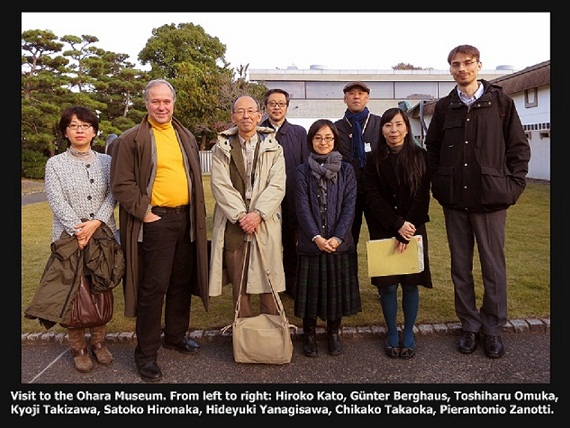 A Symposium in Tokyo Commemorating the Centenary of Futurism in Japan
by Kae Shigeno
November 17, 2012
Museum of Contemporary Art Tokyo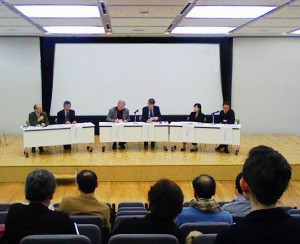 In 1909, the Italian poet Filippo Tommaso Marinetti published the first Futurist manifesto in Le Figaro. It caused a global sensation. Shortly afterward, Ogai Mori translated the manifesto into Japanese. But the influence of Futurism in Japan only became apparent after an exhibition of Futurist paintings was held in Paris in February 1912 and then traveled to London and Berlin. The Paris exhibition was reported on in Japan and the catalogue of the London exhibition was translated into Japanese. To celebrate the centenary of the arrival of Futurism in Japan, Professors Günter Berghaus of the University of Bristol (United Kingdom) and Pierantonio Zanotti of Ca' Foscari University of Venice (Italy) joined a group of Japanese researchers and held a symposium on November 17, 2012, at the Museum of Contemporary Art Tokyo.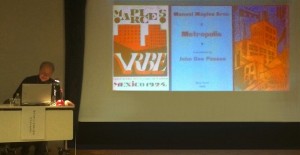 Moderated by Professor Toshiharu Omuka of the University of Tsukuba, the symposium opened with keynote speaker Günter Berghaus. Berghaus is well known for his books and essays on Futurism, and since 2011 he is the general editor of the International Yearbook of Futurism Studies. Five volumes are currently in the planning. Volume 1 came out in 2011 and investigated influences of Futurism in Central and Eastern European countries. Japan is included in volume 2, which was published in 2012, and volume 3, focusing on Spain and Portugal, is currently at the printers. In his paper, entitled "Current Research into the International Impact of Futurism," Berghaus re-examined the impact of Futurism in six countries, ranging from Eastern and Northern Europe to Latin America and the USA.
After a lunch break followed a presentation by Atsushi Tanaka of the National Research Institute for Cultural Properties, Tokyo, on "Futurism Day: The Year 1912 for Shohachi Kimura." Tanaka focused on Shohachi Kimura (1893-1958) who, while still a teenager, encountered Futurism and then became known for his literary writings and essays, in addition to his paintings. Tanaka used Kimura's diary and activities to offer a picture of the state of the visual arts in Japan in the year 1912. At that time, while Kimura became enthusiastic about Futurism, the art world in Japan was still focused on Post-Impressionism. People were introduced to that movement via books, catalogues and postcards. In other words, all they saw were reproductions and not the original paintings. Tanaka observes that the viewers' ability to judge art works under those conditions was severely limited and suggested alternative possibilities to appreciate them. However, although 2012 also marked the centenary of Post-Impressionism in Japan, not a single event or exhibition had been dedicated to a commemoration of that event.
Pierantonio Zanotti of the Ca' Foscari University of Venice was the next speaker and reported that Shohachi Kimura had never directly contacted Marinetti. According to Zanotti's analysis, the three major phases can be discerned in Marinetti's relationship with Japan: 1920, 1920-36/37, and 1936-40. Zanotti's paper, entitled "Futurism and Japan: F.T. Marinetti's perspective," focused on the second period when Marinetti began to communicate directly with Japanese intellectuals. These contacts prompted in his writing new images of Japan that went beyond the stereotypes of samurai and geishas, and made him discover Japan as a land of talented intellectuals and artists of genius. Marinetti met Seiji Togo in 1920 or 1921. Surprisingly, Marinetti noted that Seiji Togo was a grandson of Admiral Heihachiro Togo, a hero of the Japanese-Russo War of 1904-05. It is clear that Seiji and Heihachiro belonged to different family trees, but according to Zanotti's research, Seiji did not correct Marinetti's misunderstanding. Marinetti also met Tai Kambara in 1924 and introduced his works to other European art circles. Moreover, he came into contact with Japanese artists based in Germany, including Tomoyoshi Murayama, Yoshimitsu Nagano and Tomoo Wadachi. In addition, there was Harukichi Shimoi, a writer and scholar based in Napoli. Through the activities of those Japanese artists, Japan became a part of Marinetti's artistic horizon. In 1924, when the Futurism movement peaked, five Japanese were included in his manifesto, Le Futurisme mondial: Kambara, Togo, Nagano, Murayama and Hirado. And Japan was the only Asian country mentioned in this document. Because of the political situation in Italy, contacts with Japan gradually slowed down. Zanotti believes that Marinetti met Ikuma Arishima in Buenos Aires in 1936, and was on friendly terms with Shinrokuro Hidaka, the Japanese ambassador to the Italian Social Republic, from 1937-44.
Kyoji Takizawa from Machida City Museum of Graphic Arts re-examined the activities of David Burlyuk in his paper, "Far-East Russian Futurists and Japan's Emerging Art in the Taisho Era." His presentation was based on an exhibition held in 2002 at several museums in Japan. Along with Burlyuk, Victor Palmov and Pavel Liubarsky were important artists who influenced Japanese art in the 1920s and 30s. Among them were Yumeji Takehisa, Seiho Takeuchi and Tadaoto Kainosho. Takizawa revealed that after the 2002 exhibition, about 10 paintings could be identified as being works by Burlyuk and Palmov.
Although Zanotti mentioned that Tai Kambara (1898-1997) was acquainted with Marinetti for only a few years in the 1920s, he must be considered an important figure for the reception of Futurism in Japan. Chikako Takaoka from the Ohara Museum of Art focused in her paper on the Library of Tai Kambara who, as a researcher and critic, started collecting books on Western art in the 1910s and continued to do so for more than 75 years. Most of his collections were destroyed during the Great Kanto Earthquake in 1923 and also during World War II. But miraculously, some 1,700 publications have survived and, since 1984, have been housed in the Ohara Museum of Art. About 90 percent of these are related to Pablo Picasso, and 234 items pertain to Futurism. These include exhibition catalogues, postcards, portraits of Marinetti, Futurist books and magazines, some with Marinetti's dedication.
After this presentation, the discussion was opened to the floor. Japanese audience members asked about Burliuk's influence in the United States. Berghaus responded that according to his fieldwork in New York, Burliuk had little influence beyond a small circle of friends, mainly of Russian extraction. Conversely, Berghaus asked the audiences about information on the radiation of Futurism in East Asia. He pointed out that the fate of the movement in China in the 1910s and 20s is largely underresearched, and he asked for more information to be provided on this topic.
Another point from the floor concerned the relationship between Futurism and Fascism. Again, Berghaus, citing his research and explained that the Futurists in Italy were under strict surveillance from the Mussolini regime. He drew on some of Marinetti's letters to show that what an artist said in public was not necessarily what he thought in private. Berghaus also cited some anti-Fascist artists who pledged public support for Fascism because for them this was necessary to do so in order to survive under the circumstances of a dictatorship.
Shuji Takashina of the Ohara Museum of Art wrapped up the symposium by saying that he learned a lot from the presentations, especially about how Futurism arrived in and spread throughout Japan. He pointed out that Futurism could have different meanings in different regions and cities, that it was often mixed up with Cubism, and that the word "Futurism" often had the general meaning "avant-garde." How the movement had developed through different cultures, then modified or amplified may be another point to be considered in future research. He also said that in Japan, Western-style painters had clearly been influenced by Futurism, but more research needs to be undertaken on how Nihon-ga painters reacted to it. Takashina suggested that this kind of symposium should be held continuously and involve in-depth studies of other areas, in which Futurism had an impact.
In this sense, Professor Omuka adjourned the symposium and said: "See you at the next centenary."