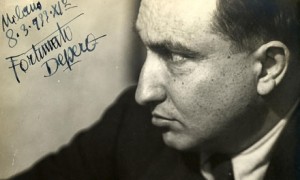 Depero (1892 – 1960), the Futurist
June 4 – August 22, 2010
The Hungarian National Gallery, Budapest
Curated by Gabriella Belli, Director of MART and Mariann Gergely, chief curator of the Hungarian National Gallery
Organized by the  Italian Embassy in Budapest and the Italian Institute of Culture
A joint exhibition of the Museo di Arte Moderna e Contemporanea di Trento e Rovereto and the Hungarian National Gallery with the sponsorship and cooperation of the Italian Embassy in Hungary and the Italian Cultural Institute in Budapest.

The year 2009 marked the 100th anniversary of Futurism, with a number of Futurist exhibitions held in various countries. Over the past twenty years there has been growing interest in the art of versatile Futurist painter Fortunato Depero (1892-1960), an ardent follower of Marinetti's aesthetics. The over 100 works displayed at the Budapest show are on loan from the Museo Fortunato Depero, Rovereto, an integral part of MART, where the collection of works left by the artist to the town is housed. Living in Austrian-controlled Rovereto until 1918, Depero was in fact raised in a Central European milieu. His artistic development was influenced by Symbolism and Expressionism, and also by the schools of Jugendstil and Wiener Werkstätte. During his trip to Rome he established contact with important Futurist painters such as Boccioni, Balla, Prampolini and Marinetti. His Futurist principles were summarized in the manifesto Ricostruzione futurista dell'universo (Futurist Reconstruction of the Universe), co-authored with Giacomo Balla in 1915, proclaiming the re-creation of the universe and the extension of art to all areas of life. Through his Futurist formal experiments he envisaged mobile sculptured constructions utilising the combined impact of movement and sound effects

In Rome, after making the acquaintance of Sergei Diaghilev and his Ballets Russes, Depero designed costumes and stage sets for Igor Stravinsky's Le Chant du Rossignol (The Song of the Nightingale) and for Balli Plastici (Plastic Dances), a picto-plastic drama co-authored with Gilbert Clavel. Between 1916 and 1919, he left off his abstract art experimentations and went on to work towards a new iconography arising from the world of magic and fantasy. Populating his metaphysical and surreal visions with unique shapes brought to life in his pictures, Depero created a kind of meta-reality.

In the autumn of 1919 he opened his studio-workshop called Casa d'Arte Futurista Depero in Rovereto, where, based on his designs, particularly impressive, decorative tapestries, textiles, furniture, toys and graphic design works were produced. In 1929 he founded another Futurist House in New York where he continued his career as a designer. He undertook significant design commissions for the Italian company Campary, the magazines Vanity Fair and Vogue, and Roxy Theater (advertisement and stage sets). He returned to Italy in October 1930. The paintings he did in that period were inpsired by his American experience, featuring urban motifs, skyscrapers, subways, and mechanical parts as visual elements. After the war he lived in the United States for a while again, but received no more commissions. In 1959 he designed and built the first museum of Italian Futurism, the Museo Fortunato Depero which, completely refurbished as one of MART's venues, was reopened to celebrate the centenary of Futurism. Depero died in 1960. He left all his works to the town of Rovereto.