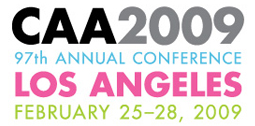 Italian Futurism, 100 Years Later
Friday, February 27, 9:30 am – 12:00 pm
CAA 2009 Annual Conference
Los Angeles Convention Center
Concourse Meeting Room 407, Level 2
Participants:
Jennifer Bethke, Independent Scholar.  Chair of panel.
David Gariff, National Gallery of Art. "Italian Futurism and the Legacy of the Milanese Scapgliatura."
Matthew McLendon, Cornell Fine Arts Museum, Rollins College. "L'arte di far manifesti: Marinetti's 'Collaging' of the Manifesto."
Michelangelo Sabatino, Gerald D. Hines College of Architecture, University of Houston. "The 'Primitive' in Italian Futurist Art and Architecture: The Case of Capri."
Siobhan Conaty, LaSalle University. "Benedetta Cappa Marinetti: Futurist, Fascist and Feminist?"
Ara Merjian, Harvard University/New York University. Respondent for panel.
The panel will be followed up by an evening presentation at the Italian Institute of Culture in LA with presentations and a round-table discussion. More details will be forthcoming.
Past links:
Call for Participation, Futurism panel
Futurism scholarship at CAA conference
Thanks, Jennifer!