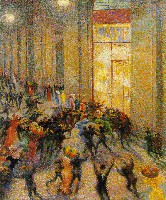 In response to a previous article published in Il Tempo, Luca Volonte, a party leader of the Union of Christian and Centre Democrats in Italy, argues against the centenary "celebration" of Futurism, calling the movement bellicose and Marinetti a "warmonger".
Matteo D'Ambrosio Gino Agnese responds, citing Marinetti's Catholic leanings.
Image: Umberto Boccioni. Riot in the Galleria. 1910. Oil on canvas. Pinacoteca di Brera, Milan.