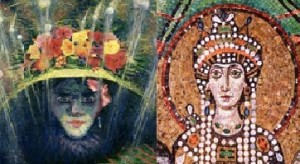 Back to the Futurism! or, Why the Futurists loved Art History
June 24, 2013. 7:30pm
Dr. Rosalind McKever
"We rebel against that spineless worshiping of old canvases, old statues and old bric-a-brac" roared the Futurist artists in their first manifesto in 1910. Never has an art movement so brazenly claimed to loathe art history, but when looking at their artworks a few traces of art history appear – did the Futurists protest too much?
Guiding you along the timeline of Italian art history and through her virtual exhibition 'Futurism and the Past', Rosalind will highlight instances of the Futurists appropriating the Italian artistic tradition. Can Futurist sculptures really be called classical? Could Futurist flattening of space have been inspired by the fashion for Byzantine mosaics? Why was Carlo Carrà obsessed with Giotto and Uccello? Did Umberto Boccioni and Giacomo Balla really think of themselves as a modern Michelangelo and Leonardo? And was Futurism Baroque?
Addressing these questions, Rosalind will consider whether the motivation for the Futurists' interest in the past was simply an inability to escape their heritage, or a shrewd manipulation of that heritage to try and create an art to overshadow ancient Rome and Renaissance Florence as much as avant-garde Paris.
Biography
Rosalind McKever is an art historian specializing in Italian art, ideas of time, and the relationship between art history and art practice. She completed her PhD on Italian Futurism's relationship with the idea of the past and the Italian artistic tradition at Kingston University in 2012. Alongside her thesis she curated a virtual exhibition for the Estorick Collection of Modern Italian Art in north London, available at www.futurismandthepast.com, which will be the focus on her Art History in the Pub talk.
– presented as part of –
The Monarch
40-42 Chalk Farm Road
Greater London NW1 8BG
Free to attend.
As part of the AAH's commitment to bringing the best in cutting-edge art-historical research to a wider community, we are pleased to be able to announce a hopefully-regular "Art History in the Pub" series of talks, lectures and events.
Our talks present a selection of the wide vareity of topics, periods, methods and apporaches common in art historical study, and are aimed at a generalist audience.