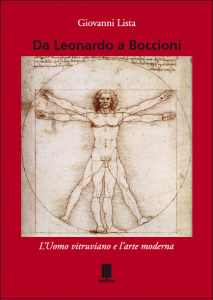 Da Leonardo a Boccioni: l'Uomo vitruviano e l'arte moderna
Giovanni Lista
Edizioni Mudima (Milano): 2012
302 p.
ISBN 978-88-86072-62-5
Il libro analizza tutte le ricerche degli artisti moderni e contemporanei sul tema dell'Uomo di Vitruvio. Infatti, le avanguardie del XX secolo hanno contestato il valore simbolico dell'Uomo di Vitruvio disegnato di Leonardo opponendogli altre immagini, più moderne, quali l'Uomo in marcia o in corsa des futuristi italiani, il corpo eccentrico dei futuristi russi, il corpo danzante del cubo-futurismo francese.
The book analyzes the modern and contemporary artists' research on the theme of the Vitruvian Man. In fact, the avant-garde of the twentieth century challenged the symbolic value of Leonardo da Vinci's design of the Vitruvian Man by juxtaposing this work with other and more modern pictures, such as the walking man or the running man of the Italian Futurists, the eccentric human body of the Russian Futurists, or the dancing body of the French Cubo-Futurists.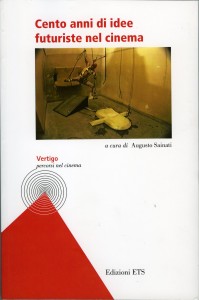 Cento anni di idee futuriste nel cinema
Ed. Augusto Sainati
w/ writings by Franco, Massimiliano Gaudiosi, Sandra Lischi, Giovanni Lista, Carmelo Marabello, Tommaso Pomilio, Gianni Rondolino, Cosetta G. Saba, Augusto Sainati, Antonio Somaini
Edizioni ETS (Pisa): 2012
220 p.
ISBN 9788846734662
Raccogliendo gli Atti del Convegno tenutosi a Napoli, all'Università Suor Orsola Benincasa il 21-22 aprile 2010, il volume illustra la ricchezza e l'attualità delle teorie cinematografiche futuriste in tutto il cinema d'avanguardia del XX secolo.
Collecting the Proceedings of the Conference held in Naples at the University Suor Orsola Benincasa on 21st-22nd April 2010, the book illustrates the richness and relevance of the futurist film theories with the avant-garde cinema of the twentieth century.