"Futurism"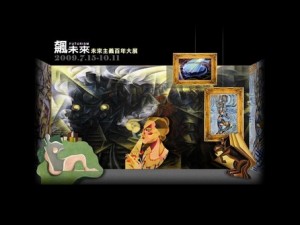 Taiwan is the first Asian stop of the Futurism centennial exhibition, which has been touring the world showcasing masterpieces of the early 20th century avant-garde art movement.
World tour curator Maurizio Scudiero said at a news conference that while Futurism was a meteoric movement that lasted only from 1909-1914, it profoundly influenced many mediums of art. "The Futurist is not only about paintings but also an attitude toward life, as it influenced fashion, architecture and design," Scudiero said.
Tsu Fen-lan, who is organizing the Taiwan stop of the tour, said the exhibition's focus on the theory of dynamism matches the vigor and energy showed in Kaohsiung and Taipei respectively.
Originated in Italy in the early 20th century, the Futurism movement was launched by Italian writer Filippo Tommaso Marinetti, who published an article on February 20, 1909 in the French daily newspaper Le Figaro about a passionate loathing of everything old, especially political and artistic tradition.
The Futurists admired speed, technology, youth, the car, the airplane and the industrial city, which represented the scientific advancement and the mechanical world.
Organized by National Chiang Kai-shek Memorial Hall, Media Sphere Communications Ltd. and China Times, the "Race into the Future: Futurism Centennial Exhibition is now showing through October 11 in the first display room of the National Chiang Kai-shek Memorial Hall. It displays a total of 143 paintings, such as "Velocita luci" by Giacomo Balla, "Ballerina" by Fortunato Depero and "Treno alla stazione di Lugo" by Roberto M. Baldessari, as well as sculptures, clothes and works of poetry inspired by the Futurist movement.
(by Central News Agency)
UPDATED 7/14/11: more info here