Luigi Russolo e la musica futurista
by Giovanni Lista
Edizioni Mudima (Milano), 2009
190 pages, 92 images
ISBN: 9788887684544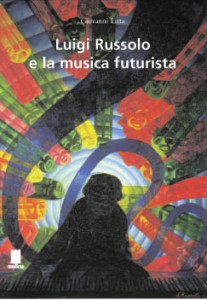 Luigi Russolo. Painter, performer and theorist of futurist "rumorismo", he experimented a new kind of music based on noises and on the largest extension of sound materials. Russolo let the music free, refusing any opposition between sound and noise and therefore affirming the deep unity of acoustic phenomena. His theories and concerts, given by intonarumori and Rumorharmonium, marked the beginning of "concrete music", "sound poetry" and noises performances' expressive currents. This book analyzes Russolo's ideas and approach and collects as well his most important theorical essais, together with documents and statements by such people as Luciano Berio, John Cage, Michel Seuphor or Pierre Schaeffer. The reader can understand the historical importance of futurist "rumorismo" and Russolo's role of special forerunner of the most revolutionary kinds of modern music.
<<>>
Un libro sull'opera di Luigi Russolo è stato appena pubblicato.
Luigi Russolo. Pittore, performer e teorico del "rumorismo" futurista, sperimentò una nuova musica fondata sui rumori e sulla massima estensione della materia sonora. Rifiutando l'opposizione tra suono e rumore, affermando cioè la profonda unità del fenomeno acustico, Russolo ha liberato la musica. Le sue teorie e i suoi concerti, eseguiti con gli intonarumori e il Rumorharmonium, hanno inaugurato la corrente espressiva della "musica concreta", della "poesia sonora" e della performance rumorista. Questo libro analizza le idee e il percorso di Russolo, raccogliendo anche i suoi più importanti scritti teorici, insieme a documenti e testimonianze, da Luciano Berio a John Cage, da Michel Seuphor a Pierre Schaeffer, sull'importanza storica del rumorismo futurista e sul ruolo di Russolo in quanto illustre precursore delle forme più rivoluzionarie della musica moderna.
Thanks, Giovanni!