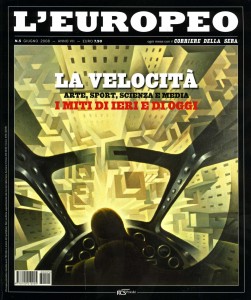 L'Europeo is a monthly publication which contains articles reprinted from its archives. The issue: "Il miglio design della nostra vita" (N. 6, 2007) has been published as a special edition for the Triennale Design Museum, and which one receives upon entry. The Triennale Design Museum is the first museum in Italy to be dedicated to design and which opened in December 2007.

This special issue contains a brief homage to Fortunato Depero and his Campari Soda bottle, which he designed in 1930. There is also an interesting interview with Gino Severini conducted by Marco Nozza titled "Siamo tutti futuristi (forse)" which was originally published in L'Europeo N. 12, 1964. In this interview Severini speaks of his relationship to Marinetti and Futurism, his relationship to Paris, the wars, and his recent return to Futuristic painting.
The June 2008 issue is dedicated to "La Velocità: i miti di ieri e di oggi" through essays on art, sport, science and the media and is interspersed with works by Tullio Crali. In the article "Carogne, vi parlerò del dinamismo futurista" by Pasquale Chessa (L'Europeo N. 19-20, 1986) the author speaks with Primo Conti of his first encounter with Futurism and the lasting impact it made on him.
Thanks, Jorge, for scooping the Design Issue.