CONFERENCE
100 anni di idee futuriste nel cinema
[100 Years of Futurist Ideas in the Cinema]
April 21-22, 2010
Università degli Studi Suor Orsola Benincasa di Napoli
– With the partecipation of Paolo Bertetto, Gianni Rondolino, Augusto Sainati, Giovanni Lista, Sandro Bernardi and others.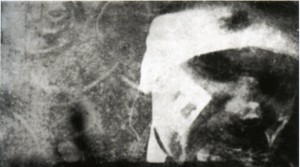 Comitato Nazionale per le celebrazioni
del centenario della pubblicazione del Manifesto del Futurismo
100 anni di idee futuriste nel cinema
Convegno di studi
Università degli Studi Suor Orsola Benincasa
ia Suor Orsola, 10 – 80135 Napoli
Sala degli Angeli
21-22 aprile 2010
Programma provvisorio
Mercoledì 21 aprile – ore 15,30 – 19,30
Francesco De Sanctis (Rettore dell'Università degli Studi Suor Orsola Benincasa)
Apertura dei lavori
Emma Giammattei (Preside della Facoltà di Lettere)
Indirizzo di saluto
Giovanni Lista (CNRS, Paris)
In che senso è stato futurista il cinema futurista?
Paolo Bertetto (Università La Sapienza, Roma)
L'irradiazione del futurismo nel cinema
Antonio Costa (Università IUAV, Venezia)
Le folli notti dell'ingegner Norsen. Ovvero: futurismo export-import
Pausa
Antonio Somaini (Università di Genova)
Cinématique e cinématisme. Il confronto con il futurismo nel cinema e negli scritti di Ejzen_tejn
Mario Franco (Accademia di Belle Arti, Napoli)
La macchinolatria
Giovedì 22 aprile – ore 9,30 – 13
Gianni Rondolino (Università di Torino)
Sarebbe stato davvero possibile un cinema futurista?
Carmelo Marabello (Università di Messina)
Macchinemondi: Afriche lontane, antropologie futuriste e altre allocronie nel cinema di Corrado D'Errico
Pausa
Augusto Sainati (Università Suor Orsola Benincasa, Napoli)
Linee, chiazze di colore, musica cromatica: il cinema senza il cinema
Marco Pistoia (Università di Salerno)
Riflessi e rifrazioni"futuriste" tra anni Sessanta e anni Settanta
22 aprile – ore 15,30 – 19,30
Sandro Bernardi (Università di Firenze)
Cinema del terzo millennio, il ritorno del montaggio dinamico futurista
Sandra Lischi (Università di Pisa)
Pixel in libertà. Le eredità dei futurismi nell'arte elettronica
Tommaso Pomilio (Università La Sapienza, Roma)
Tsukamoto: il (non)futuro dell'uomo di ferro
Pausa
Cosetta G. Saba (Università di Udine)
Artefatto poliespressivo: l'opus filmico e non filmico di Matthew Barney
Massimiliano Gaudiosi (Università Suor Orsola Benincasa, Napoli)
"Visione-sensazione": il futurismo e lo spazio-tempo cinematografico