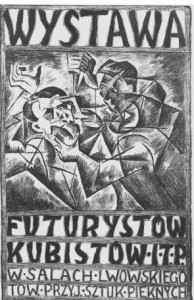 BOOK PRESENTATION
Marinetti and Futurism in Poland 1909-1939
April 14, 2014
6pm
Center for Italian Modern Art (CIMA), NYC
Przemyslaw Strożek of the Polish Academy of Sciences, Warsaw, will discuss his book, Marinetti i futuryzm w Polsce 1909-1939 [Marinetti and Futurism in Poland 1909-1939]. His presentation will consider Polish responses to Futurism, highlighting the connections of Marinetti and Depero with Poland.
Dr. Przemysław Strożek graduated from Warsaw University and the Theatre Academy in Warsaw. He is a research fellow at the Institute of Art of the Polish Academy of Sciences, lecturer at the Academy of Fine Arts in Warsaw, Fulbright scholar and member of the European Network for Avant-garde and Modernist Studies. He is the author of numerous publications on Polish Avant-garde and on the presence of historical avant-garde in culture. His research area also covers the relationship between Polish culture of the1920s and Italian futurism. His research has been published in Polish scientific journals and in the International Yearbook of Futurism Studies (De Gruyter, 2011, 2014), edited by Günter Berghaus. He is also the author of a monograph on Marinetti in Poland (IS PAN, 2012).
This event is co-presented by the Polish Cultural Institute of New York.