Thank goodness for Google Translate! Original here.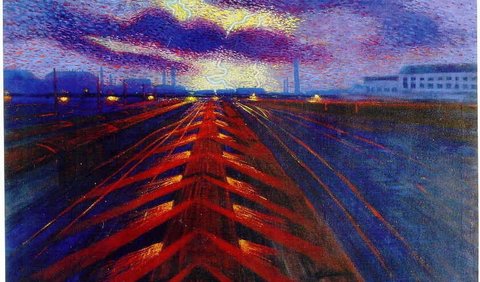 National Interpol Bratislava unit has recently adopted the Italian request for urgent legal aid prosecutors in Genoa, which is investigating the suspected forgery of works of Italian Futurism. It was well-known works by the Italian futurists, for example Giacomo Balla, Tullio Crali and Fortunato Depero, which were to be displayed in the gallery in Bratislava. The exhibition was due to 8.12.2009 and Slovakia should be transferred to Portugal.
The exhibition was installed in the gallery in Bratislava city center. The Gallery presented an exhibition entitled "Futurism".  According to information published on the Internet it was from private collections.
"The International Department of the General Prosecutor's Office in cooperation with the Bratislava I District Directorate secure 78 paintings, which were exposed and not subjected to a few images, which also belonged to the exhibition," hurried to notify the Police Presidium spokeswoman Andrea Polačiková. Secured images are already in Italy.
In connection with the fake paintings by the Italian authorities investigating two Italians, who were giving false works into circulation, to offer them for shows and exhibitions as genuine. It should draw up a false declaration to circulate counterfeit professional expertise with their certificate of authenticity. Prompted a police investigation in Italy was an action brought by the Italian professor, art historian and also one of the most respected experts on the period of Futurism. Examined exhibited paintings and concluded that several of the exhibited works are forgeries. In Italy, suspects in the execution of such search, and different materials have been seized, including counterfeit stamps professionals.