PRESENATION
Rivista DADA (for children)
Friday, December 18, 2009
3:30pm – presentation of the magazine Dada "Futurismi"
4:30pm – "Il Futurismo raccontato ai bambini"
Fortezza del Priamar, Palazzo del Commisario – Savona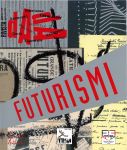 The special issue  "Futurismi" of the children's magazine Dada will be presented on the occasion of the exhibit "Savona Futurista: esperienze d'avanguardia da Marinetti a Tullio d'Albisola".
This issue was curated by Après la nuit Associazione Culturale e Artebambini in collaboration with the Comitato per le celebrazioni del Centenario Futurista, the Comune of Savona and the Comune of Altare.
This totally reminds me of this children's book I picked up at the Peggy Guggenheim Collection Museum Shop (who by the way is having a winter sale I believe). It teaches kids about Futurism through various craft projects!

Il Futurismo: tutto corre rapido
by Giovanna Giaume, illustrated by Paolo Marabotto
Published by Lapis, 2000