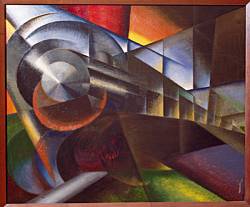 Ivo Pannaggi, Italian, 1901-1981. Speeding Train, 1922. Oil on canvas. Fondazione Cassa di Resparmio, Museo Palazzo Ricci, Macerata.
Image reproduced courtesy of The Nelson-Atkins Museum.
Art in the Age of Steam, America and the Railway, 1830-1960
September 13, 2008—January 18, 2009
The Nelson-Atkins Museum of Art
Kansas City, MO
Curated by Ian Kennedy (Nelson-Atkins) and Julian Treuherz (Liverpool, England)
Catalog
This exhibit aims to demonstrate how different artists responded to the development of the railroad. One of the sections into which this show is divided is "The Machine Age" and includes the work by Ivo Pannaggi pictured above.