Italian Cultural Insitutute, Washington D.C.
February 19, 2009 6:30pm
The Istituto invites you to the presentation by prof. Pietro Frassica of the anastatic reprint of Marinetti and Fillìa's Cucina Futurista.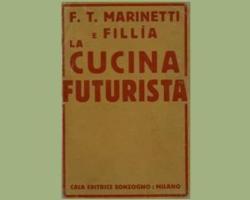 Pietro Frassica is Professor of Italian at Princeton University. He has done principal work in the early Renaissance, the Eighteenth (Baretti, Parini, Alfieri), contemporary literature (Primo Levi, Patti, Soldati, Saba, Lagorio, Marinetti) and theater (Pirandello). He is the author of more than seventy published articles and of the following books: A Marta Abba per non morire, 1991; Romanzo europeo tra Otto e Novecento, 1992; Caro Maestro (letters by Marta Abba to Luigi Pirandello), 1994; Varianti e invarianti dell'evocazione, 2004, (Val di Comino Prize). His critical edition of Gian Mario Filelfo's Chroniche de la città de Anchona, 1979, received the "Premio Internazionale di letteratura" in 1980. He is also editor of the volumes Primo Levi as Witness, 1991; Studi di filologia e letteratura italiana, 1992; Salvatore Quasimodo. Nel vento del Mediterraneo, 2001; Ercole Patti e altro novecento siciliano, 2004; Magia di un romanzo, Il Fu Mattia Pascal prima e dopo, 2005; and La Cucina Futurista, (by Marinetti and Fillìa), 2007.