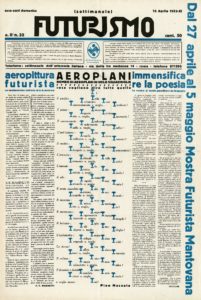 Pino Masnata, Futurist: A Life in Science and Art
August 4, 2016 at 6:30 PM
San Francisco Italian Cultural Institute
Opera Plaza, 601 Van Ness Avenue, San Francisco
Admission: Free! RSVP : 415-788-7142 or online
Roberto Masnata of Stradella, Italy, will speak about his father's life and show images of Futurist art and poetry never before seen in the United States.
Pino Masnata (1901-1968), surgeon, avant-garde poet, and radio artist, was the 1933 Futurist National Poet Champion. He enjoyed a unique position within the Futurist movement as trusted friend, amanuensis, and physician of F. T. Marinetti, the founder of Futurism. Masnata is best known as co-author with Marinetti of the poetic and prescient 1933 Futurist Radio Manifesto. The Manifesto proposes a new art of RADIA that will construct architectural space from silences, seduce listeners with the vibrations of a diamond, and stage combat zones in the ether where noise from one locale battles noise from another. Masnata's libretto for composer Carmine Guarino led to one of the first operas written specifically for radio, Il cuore di Wanda (Wanda's Heart), broadcast in 1931. [Masnata: Wikipedia entry in Italian]
Andrew Joron will open the program with a demonstration of the theremin, an electronic music instrument invented by Léon Theremin in 1920. The performer creates sound by means of two radio frequency oscillators, without touching the instrument.
After the talk: experimental poet Andrew Joron; composer and sound poet Charles Amirkhanian, Artistic director of radiOM and Other Minds, San Francisco; and Margaret Fisher, translator of Pino Masnata's Gloss of the 1933 Futurist Radio Manifesto, RADIA will join Roberto Masnata to discuss the legacy of Futurist art in poetry and the electronic arts. A reception follows.