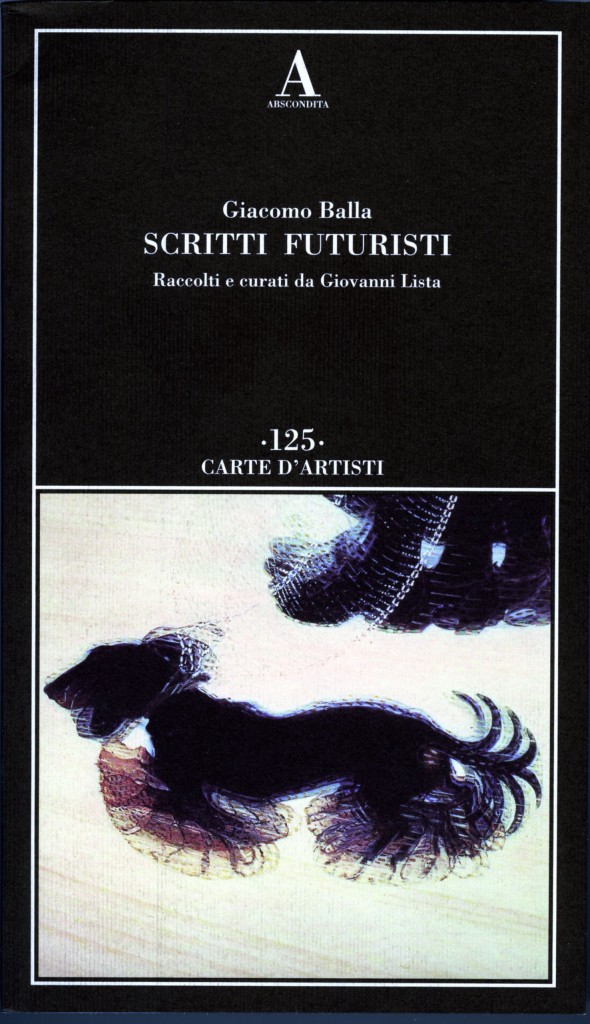 Giacomo Balla, Scritti futuristi
raccolti e curati da Giovanni Lista
Edizioni Abscondita, Milano, 2010
302 pagine
La raccolta degli "scritti futuristi" di Giacomo Balla, mai realizzata prima d'ora, offre una delle principali testimonianze sul significato storico dell'avanguardia futurista. Balla è stato uno dei maggiori protagonisti del futurismo italiano, alla stregua di Marinetti e Boccioni. Ma mentre gli scritti di quest'ultimo sono stati già da tempo oggetto di un'antologia e ampiamente diffusi, quelli di Balla sono rimasti in gran parte sconosciuti. Questa raccolta rinnova la lettura critica della teoria, della storia e della pratica attivistica dell'avanguardia italiana. Permette finalmente di comprendere il ruolo di Giacomo Balla, le sue idee e la sua posizione in seno al movimento futurista, oltre a dargli lo spazio che si merita all'interno delle correnti avanguardistiche del XX secolo.
++++
The collection of Giacomo Balla's "futurist writings", never achieved before, offers one of the main attestations concerning the historical meaning of the futurist avant-garde. Balla has been one of the most important protagonist of Italian futurism, like Marinetti and Boccioni. But while Boccioni's writings have been the object of an anthology and widely spread for long, Balla's ones have mostly remained unknown. This collection refreshes the critical reading of the Italian avant-garde theory, history and activist experience. Eventually it enables us to understand Giacomo Balla's role, ideas and position in the futurist movement, as well as to give him the position he deserves within the avant-gardistic currents of the XXth century.