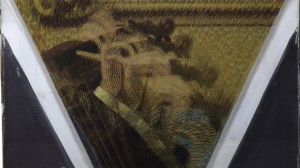 More than Meets the Eye: New Research on the Estorick Collection
23 September – 20 December 2015
Estorick Collection
This exciting exhibition presents the findings of specialist art historians, restorers and scientists who have examined key works from the Estorick's permanent collection. They have shed new light on the different techniques used by a number of painters, and in some cases have even revealed the presence of previously unknown images beneath, or on the back of, the Collection's masterpieces.
Major discoveries include a painting depicting bathing women on the rear of Ardengo Soffici's Deconstruction of the Planes of a Lamp, hidden by the complex framing system that has protected the work for decades. One of the most significant revelations of the show is the discovery of an entirely different work underneath Giacomo Balla's 1912 masterpiece The Hand of the Violinist. Until now its existence has only been known of from contemporary photographs.
Offering intriguing new perspectives on iconic images, this multi-media exhibition also presents fascinating insights into 'the science of art'.
The analysis has been conducted by the University of Pisa, the Opificio delle Pietre Dure in Florence and the Consiglio Nazione delle Ricerche of Florence and Milan, as part of the project FUTURAHMA – From Futurism to Classicism (1910-1922): Painting Techniques, Art History and Material Analysis, funded by the Italian Ministry for Universities and Research.