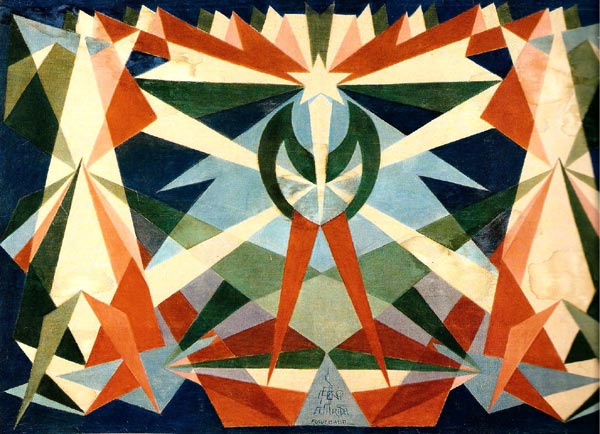 Giacomo Balla, Genio Futurista
December 4, 2009 – January 31, 2010
*presentation December 3, 2009 – 12pm
Museo dell'Ara Pacis (Rome)
Un'opera fondamentale di Giacomo Balla non esposta da piu' di trent'anni. E' "Genio Futurista", la monumentale opera (olio su tela d'arazzo, cm. 279×381, la piu' grande mai realizzata da Balla) entrata recentemente a far parte della ricca collezione di opere di Balla raccolte dalla stilista Laura Biagiotti, che verra' presentata a Roma, il 3 dicembre alle 12 al museo dell'Ara Pacis, da Umberto Croppi, Assessore alle Politiche Culturali e della Comunicazione di Roma, Umberto Broccoli Sovrintendente ai Beni Culturali del Comune di Roma, Laura Biagiotti Presidente di Biagiotti Group Fabio Benzi. L'opera potra' essere vista dal 4 dicembre al 31 gennaio 2010.
La mostra parigina sancisce la larghissima e ormai capillare diffusione internazionale delle idee dei Futuristi che, interpretando le teorie di Filippo Tommaso Marinetti, avevano gia' nel decennio precedente operato una vera e propria rivoluzione in campo ideologico e artistico e dato voce allo slancio che aprira' la strada alle avanguardie internazionali. Il mito della velocita', del dinamismo, si lega ad un nuovo concetto di arte, che i Futuristi intendono non piu' come semplice rappresentazione, ma come azione concreta sul mondo, che nei temi affrontati si traduce in un inno alla modernita', al progresso ed incarna la visione ottimista e progressista di inizio secolo.
L'arazzo e' poi nuovamente esposto alla mostra degli Amatori e Cultori di Roma nel 1928, in posizione dominante al centro di una grande parete nella grande sala antologica dedicata al lavoro di Giacomo Balla in cui l'artista presenta una selezione delle opere piu' importanti della sua carriera, a partire dal divisionismo di inizio secolo. Impostato sui colori italiani (rosso, bianco e verde), che si intarsiano su un fondo blu e azzurro, la composizione "prismatica" e' incentrata su una schematica figura d'uomo, la testa a stella, le braccia tese a formare una sorta di M, iniziale di Marinetti inventore del Futurismo, le gambe due cunei rossi.
Il grande arazzo e' sempre stato ritenuto, in primo luogo dallo stesso Balla, l'opera cardine della sua presenza all'Esposizione di Parigi del 1925. Una presenza altamente simbolica per l'origine e gli sviluppi dell'art de'co, ma anche perche' consente al pubblico di avvicinarsi e riscoprire il fascino di una collezione emozionante e prestigiosa, costruita con pazienza e passione dalla famiglia Biagiotti Cigna. L'opera dipinta ad olio viene realizzata da Balla per l'Exposition des Arts de'coratifs modernes tenutasi a Parigi nel 1925, dove e' esposta per la prima volta proprio nel padiglione delle arti decorative insieme ad altre sue realizzazioni: Mare vele vento, Farfalle in movimento e Fiori futuristi.

Lot 335: Giacomo Balla (1871-1958)
Auction House: Christie's
Auction Location: Italy
Auction Date: 2006
Artist or Maker: Giacomo Balla (1871-1958)
Description: Genio Futurista
titolo e firma Genio Futurista FuturBalla (in basso al centro)
tela da arazzo dipinta
cm 282×381
Eseguito nel 1925
Provenance: Casa Balla, Roma
ivi acquisito dall'attuale proprietario negli anni Ottanta
Exhibited: Parigi, Grand Palais, Exposition Internationale des arts dècoratifs et industriels modernes,sala Le futuriste, aprile – ottobre 1925 (visibile nella foto della sala)
Roma, Palazzo delle Esposizioni, Società Amatori e Cultori di Belle Arti, XCIV Esposizione di Belle Arti, sala VII Il pittore futurista Giacomo Balla, febbraio – giugno 1928, cat., n. 90 (l'opera è visibile nella foto della sala)
Roma, Galleria Nazionale D'Arte Moderna, Giacomo Balla, 23 dicembre 1971 – 27 febbraio 1972, cat., p. 179, n. 71 (illustrato)
Published: G. Jannelli, I Futuristi Italiani all'Esposizione Internazionale di Parigi, in "Giornale d'Italia", Parigi, luglio 1925
M. Sarfatti, Le Arti Decorative Italiane a Parigi, in "L'Italia alle Esposizioni internazionali Arti Decorative e Industriali moderne", Parigi 1925
R. Benet, El Futurismo comparado al Movimento Dada, Barcellona 1949 M. Drudi Gambillo, T. Fiori, Archivi del Futurismo, Roma 1962, n. 359, p. 172
G. Lista, Balla, Modena 1982, p. 349, n. 756 (illustrato)
E. Balla, Con Balla, Milano 1986, p. 183 (illustrato)
M. Fagiolo dell'Arco, Balla the Futurist, New York 1988, p. 44 (illustrato)
M. Fagiolo dell'Arco, FuturNatura. La svolta di Balla 1916-1920, Milano 1998, p. 93, fig. c (illustrato)
M. Fagiolo dell'Arco, Balla a sorpresa, Milano 2000, p. 15, fig. d e p. 95, fig. b (illustrato)
Notes: Where there is no symbol Christie's generally sells lots under the Margin Scheme. The final price charged to Buyer's for each lot, is calculated in the following way: 24% on the hammer price of the first € 150,000,00 18.5% on the hammer price for any amount in excess of € 150,000,00.
Artist's Resale Right ("droit de Suite"). If the Artist's Resale Right Regulations 2006 apply to this lot, the buyer also agrees to pay us an amount equal to the resale royalty provided for in those Regulations, and we undertake to the buyer to pay such amount to the artist's collection agent.