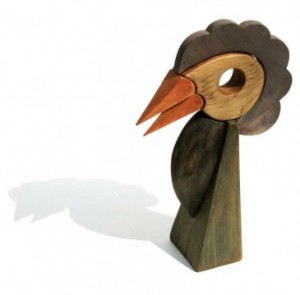 Los juguetes de las vanguardias
October 4, 2010 – January 30, 2011
Museo Picasso de Málaga
Over four hundred works on display at Museo Picasso Malaga will illustrate early 20th-century artists' interest in making children familiar with the shapes and ideas of modern art.

Pablo Picasso, Giacomo Balla, Henri Cartier-Bresson, Fortunato Depero, Alexandra Exter, Paul Klee, El Lissitzky, Joan Miró, Edward Steichen, Sophie Taeuber-Arp, Alexander Rodchenko and Joaquín Torres-García are among the more than one hundred artists and authors whose work will be shown. Play serves as the narrative thread for an exhibition that covers such diverse disciplines as art, literature, theatre, photography, graphic design and film.

Toys of the Avant-garde examines the hitherto little-explored relationship between art and teaching, in the numerous projects for children that appeared in Europe during this revolutionary period. Nowadays, they are seen as examples of the artistic and literary trends that were to set the course for art and design today.

It ends with an annexe that is a restaging of the exhibition organized by author Blaise Cendrars in Paris, in 1929. It will contain approximately two hundred works, including books, correspondence, photographs and posters for children, produced by Russian Avant-garde artists during the early years of the Soviet Revolution. It will also include the screening of the film Éclats de Cendrars, directed by the author's grandson, Thomas Gilou.

The exhibition has been organized and produced by the Museo Picasso Málaga, and curated by Carlos Pérez, Head of Exhibitions at the Museo Valenciano de la Ilustración y la Modernidad (MuVIM), Valencia, and José Lebrero Stals, Artistic Director of the MPM. An international advisory panel of experts also collaborated on this project. They include Juan Bordes (sculptor, architect, teacher, author and member of the Real Academia de Bellas Artes de San Fernando, Madrid; Cecilia Buzio de Torres (expert on Torres García); Luigi Cavadini (Director of the Museo d'Arte Contemporanea di Lissone); Françoise Lévèque (conservator of the Historical Holdings of the Bibliothèque de L'Heure Joyeuse, Paris); Iva Knobloch (conservator at the Museum of Decorative Arts, Prague) and art historian and linguist Medea Höch, from Zürich.

Two editions of an illustrated book will be published to coincide with the exhibition, in Spanish and English, respectively. The book will contain essays by the curators and the experts mentioned above, as well as pictures of the exhibits.