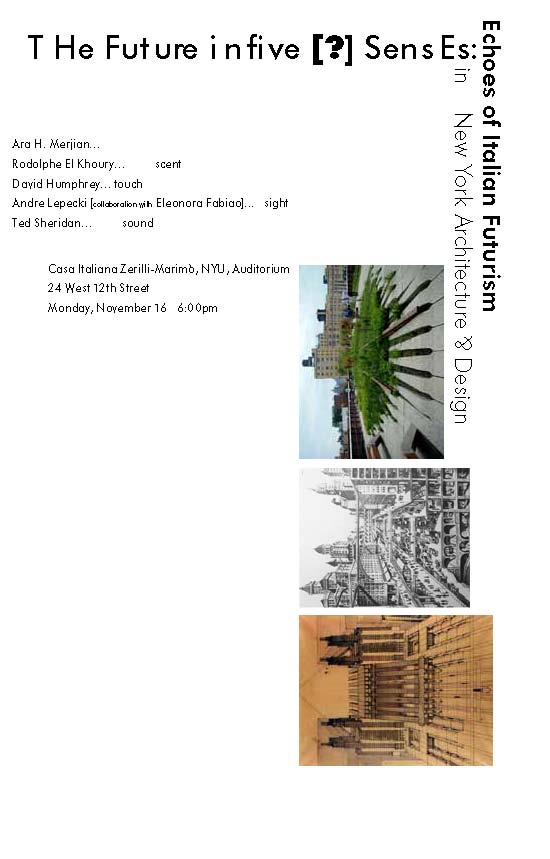 The Future in Five Senses: Echoes of Italian Futurism in New York Architecture and Design
Monday, November 16 6:00pm
Casa Italiana Zerilli-Marimò, New York University
FREE
For the "heroic" avant-gardes of early twentieth-century, perhaps no metropolis invited the projection of utopian aspirations more than New York City. The Futurists' actual presence in New York was minimal and belated. But if the movement drew upon the city's dynamic example from afar, Futurism, in turn, has contributed to New York's spaces, textures, and tectonic innovations. Whether double-filtered through the post-war innovations of Italian design, or else absorbed through the wide-ranging ripples of Futurism in multi-media global culture, the movement's legacies in New York are at once nowhere in particular and everywhere experienced.
Reckoning the space and time that separates (or perhaps joins) the present of New York and the past of the Futurist avant-garde, this panel consider the legacies of Italian Futurism in the built environment. Focusing on the rapports between architecture, design, and the five senses, our panel considers New York¹s place in the history of Futurism, as well as the future of architectural and design practice.
Introduction: Ara H. Merjian, NYU
Panelists: Rodolphe El Khoury, Andre Lepecki, Ted Sheridan, David Humphrey
Organized by Ara H. Merjian and Stefano Albertini. Presented by New York University and Casa Italiana.