reminder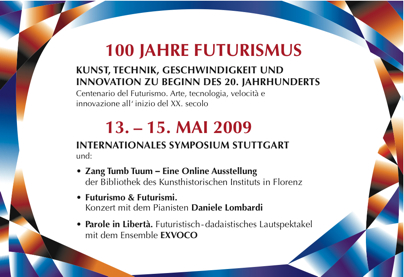 In occasione del Centenario della nascita del Futurismo verrano affrontati a Stoccarda, in una manifestazione di 3 giorni, i vari aspetti (anche meno conosciuti in Germania) del movimento futurista, per dimostrare l'importanza dei contributi che il Futurismo ha dato all'arte moderna, alla letteratura, la musica, l'architettura, il teatro, la politica ecc. e così alla cultura e alla vita quotidiana del primo Novecento. Saranno messi a fuoco soprattutto quegli aspetti dell'avanguardia futurista che risultano essere ancora oggi di particolare interesse per la comprensione e descrizione della nostra cultura e società postmoderna.
La manifestazione mira ad un confronto artistico-scientifico e interdisciplinare sul futurismo come progetto d'avanguardia di grande importanza socio-culturale in Italia e in Europa.
Il convegno scientifico sarà accompagnato da un concerto di musica futurista eseguita al pianoforte dal Maestro Daniele Lombardi, da un Spectacle sonor con l'Ensemble EXVOCO di Stoccarda e da una Performance gastronomica "La cucina futurista".
L'organizzazione della manifestazione è a cura dell' Internationales Zentrum fuer Kultur- und Technikforschung (IZKT)/ Italienzentrum der Universitaet Stuttgart
in collaborazione con: Staatsgalerie Stuttgart, Staatliche Hochschule fuer Musik und Darstellende Kunst Stuttgart, Istituto Italiano di Cultura Stuttgart, Akademie fuer Darstellende Kunst Baden-Wuerttemberg.
SCHEDULE

Mittwoch / Mercoledì 13. 5. 2009
Staatsgalerie Stuttgart, Konrad-Adenauer-Str. 30-32, Vortragssaal
9.00 – 12.30 h
Kunst – Geschwindigkeit – Technik / Arte – Velocità – Tecnologia
Begrüßung und Einführung / Introduzione
Sean Rainbird (Stuttgart), Francesco Acanfora (Stuttgart)
Irene Chytraeus-Auerbach (Siena)
Enrico Crispolti (Siena/Roma):
La velocità e la tecnologia come elementi costitutivi dell'immaginazione e dell'ideologia futurista
Lisa Hanstein (Florenz):
"ZANG TUMB TUUM…" – 100 Werke des Futurismus. Eine Online Ausstellung der Bibliothek des Kunsthistorischen Instituts in Florenz
14.00 – 18.00 h
Kommunikation – Innovation / Comunicazione – Innovazione
Matteo D'Ambrosio (Napoli):
Il Manifesto futurista come nuovo paradigma di genere
Hansgeorg Schmidt-Bergmann (Karlsruhe):
Mafarka – die Konstruktion des heroischen Körpers der Moderne
Daniele Lombardi (Firenze):
Luigi Russolo e l'innovazione musicale degli intonarumori
Angelo d'Orsi / Francesca Chiarotto (Torino):
Il Futurismo tra "inegualismo" e "artecrazia": reazione o rivoluzione? / Il futurismo nell'analisi di Antonio Gramsci
Staatliche Hochschule für Musik und Darstellende Kunst, Urbanstr. 25, Konzertsaal
20.00 h
FUTURISMO & FUTURISMI
Konzert mit dem Pianisten Daniele Lombardi / Concerto con il pianista Daniele Lombardi (Firenze)
Donnerstag / Giovedì 14. 5. 2009
Staatsgalerie Stuttgart, Konrad-Adenauer-Str. 30-32, Vortragssaal
9.00 – 12.30 h
Visualisierungen / Visualizzazioni
Lisa Hanstein (Florenz):
Der Geist der Materie – die Ausdehnung der Skulptur in den Raum
Ann-Katrin Günzel (Köln):
Die "serata futurista" als inszenierter Skandal
Günter Berghaus (Bristol) und Henry Daniel (Vancouver):
From the Futurist Mechanical Theatre to Neofuturistic Cyber-Performance
14.00 – 18.00 h
Architektur – Film und Fotografie / Architettura – Cinema e Fotografia
Ezio Godoli (Firenze):
L'idea futurista di metropoli da Sant'Elia a Marchi
"THE FUTURIST METROPOLIS – Im-Possible Projects"
Präsentation des Dokumentarfilms in Anwesenheit des Autors Vincenzo Capalbo (Florenz)/ Presentazione del documentario in presenza dell'autore Vincenzo Capalbo (Firenze)
anschließend Diskussion mit den Referenten / in seguito discussione con i relatori
Giovanni Lista (Paris):
Immagine e tecnologia nel futurismo
20.00 h
PAROLE IN LIBERTÀ
Lautspektakel mit dem Ensemble EXVOCO /Spectacle sonor con l'Ensemble EXVOCO(Stuttgart)
Freitag / Venerdì 15. 5. 2009
Staatliche Hochschule für Musik und Darstellende Kunst, Urbanstr. 25, Kammermusiksaal
9.00 – 15.00 h
Signale / Segnali
Irene Chytraeus-Auerbach (Siena):
Herwarth Walden und F.T. Marinetti: zwei 'Motoren' der Avantgarde
Petra Brunnhuber (Florenz):
Die Lyriker des Sturm-Kreises und die Futurismusdebatte
Mauro Ponzi (Rom):
Revolution der Formen: Innovation und Tradition im Italienischen Futurismus
Helmuth Kiesel (Heidelberg):
Rezeption und Kritik des futuristischen Impulses in der deutschen Literatur
Anschließend / in conclusione
Restaurant "Gast" in der Staatsgalerie Stuttgart, Konrad-Adenauer-Str. 28
"La cucina futurista" . SynESSthetische Performance
mit Küchenchef Marco Gast und Studierenden der Akademie für Darstellende Kunst Baden-Württemberg / Performance con lo Chef Marco Gast e gli studenti dell'Accademia di Belle Arti Baden Württemberg Teilnehmerzahl begrenzt. Eintrittskarten am Büchertisch während der Tagung erhältlich.
*Numero di posti limitato. Biglietti in vendita presso il tavolo libri durante la conferenza.
Um Anmeldung zum Symposium wird gebeten. Kontakt und Information:
Tel.: +49-(0)711-685-8 2379
Fax: +49-(0)711-685-8 2813
[email]elke.uhl@izkt.uni-stuttgart.de[/email]
Während des Symposiums wird eine Simultanübersetzung (deutsch-italienisch) angeboten.
Begleitend zum Symposium bietet die Staatsgalerie Stuttgart öffentliche Führungen an:
Mittwoch, 13.05.09
12.45 – 13.15: Futurismen. Kurzführung
Treffpunkt Foyer Alte Staatsgalerie
Donnerstag, 14.05.09
12.45 – 13-15: Futurismen. Kurzführung
Treffpunkt Foyer Alte Staatsgalerie