Performa hosted an impressive Futurist Banquet at New York City's Inside Parkon the centennial of the publication of the founding manifesto of Futurism: February 20th, 2009. In this way Performa introduced Futurism as the theme for this year's biennial, which will run November 1st through 22nd and will feature newly commissioned works. Performa was established in 2004 by RoseLee Goldberg, who is well known for her book Performance Art: From Futurism to the Present.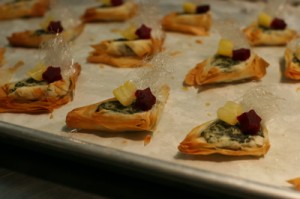 As the evening began, the 100 or so guests – including performance artist Marina Abramovic, starchitect Steven Holl, and fashion designer Kai Kuhne –  enjoyed Futurist cocktails and the tunes of The Cangelosi Cards, who incorporated Italian avant-garde music into their typical reprotoire of New Orleans-style jazz, blues and swing. (Their sound brought to mind the trio Sorelle Marinetti, and I wondered where those lovely ladies might have been performed this very evening.) Guests mingled and delighted in hors d'oeuvres including Tyrrhenian Seaweed Foam, Dates in Moonlight, and Geraniums on a Spit. These complemented three delicious cocktails: the Alcoholic Joust(served appropriately with a skewer of parmesan cheese and chocolate), The Great Waters, and the Inventina. Guests were then instructed to seek out their seats using the Futurist's Edible Alphabet, where each guest's initials were laid out in cheese, caramel, pastry and/or mortadella.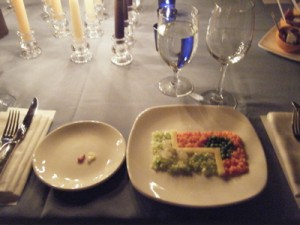 The meal began with The Cubist Vegetable Patch (surprisingly flavorful), Aerofood (accompanied with spritzes of floral perfumes), and the Intuitive Antipasto, into which were embedded cards with Futurist phrases (mine read: "We regard art critics as useless and dangerous"). During this time, several of the guests spontaneously arose from their seats, reading from these the cards. Meanwhile, Folgore's Dazzling Appetizer, a poem, was read aloud.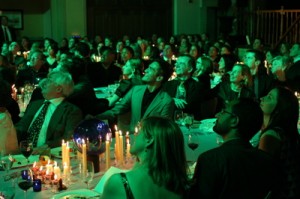 The first course, Milk in Green Light, was accompanied by orchestrated lighting changes. Meanwhile, Luciano Chessa dashed about the room in an extremely energetic performance of Piedigrotta, wherein Luciano mimicked the sounds of a Neapolitan street party. Next, Renato Miracco, director of the Italian Cultural Institute in New York, declaimed from the stage.
The main course consisted of Futurist Risotto with Cape Gooseberriesand Futurist Pheasant. The meal was finished off with The Marinettian Bombe, designed by Bompas & Parr – Jell-o, the likes of which have never been seen before.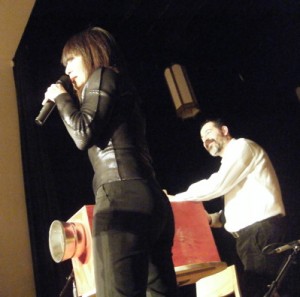 The dinner was created by Chef Matthew Weingarten and was entirely based on the Futurist Cookbook. The meal and its accompanying sensory provocations inspired interesting and thoughtful conversations.  The evening's highlight was RoseLee's unveiling of a reconstructed replica of one of Russolo's Intonarumori, constructed under the supervision of Luciano Chessa. Performa hopes to have a complete orchestra by this Fall for the Biennial.