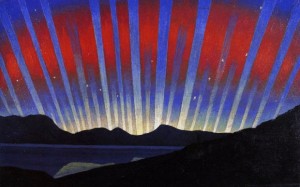 Luigi Russolo: Al di là della materia
September 14 – December 7, 2014
Museo Comunale d'Arte Moderna di Ascona
Curated by Mara Folini
The Museo Comunale d'Arte Moderna in Ascona presents an exhibition dedicated to Luigi Russolo (Portogruaro 1885 – Cerro Laveno 1947), one of the most profound and interesting Italian Futurism.

The initiative, organized by Mara Folini, director of the Municipal Museum of Modern Art, and Anna Gasparotto and Franco Tagliapietra, presents 50 works, including paintings drawings and prints, the most significant of the symbolist period, proto-futurist, futurist and Finally, classical and modern. The works come from major museums in Switzerland, such as the Kunstmuseum Basel, and international, as the MART of Trento and Rovereto, the Galleria degli Uffizi in Florence, the collection of the Municipality of Portogruaro, the Musée de la Ville de Paris, as well as from private collections. Also on display is a reconstructed copy of Intonarumore , device invented by the same Russolo in 1913, to "tune and adjust harmonically and rhythmically" noises, like the sounds of contemporary life.

The exhibition provides a broad overview of the activity and thought russoliano, with particular attention to how novel pictorial production of the thirties and forties, spent in Cerro Laveno on Lake Maggiore. This production, which is defined by the same "classic-modern" – after his meeting took place in Paris at the end of the twenties with the theosophist magnetist Guido Tower – can be better understood in the light of the philosophical foundations that have allowed the birth and the development. Part of this process of analysis, the readings of Russolo, his thoughts expressed in the Treaty Beyond the matter of which the diaries, recently discovered, provide an interesting laboratory for preparation. The intent is to highlight the continuity rather than the fractures in the work of Luigi Russolo: spirituality in art accompanies the artist in all of his creative evolution, from the first suggestion symbolist when proto-futuristic, some aspects of the theory Futurist, the cosmic theme, to the paintings pacified "classic-modern".

Among the many links offered by the exhibition of Ascona, is mentioned for the first time, even the one with the artists' colony of Monte Verità, with which the thought and life of Luigi Russolo appear symbolically related to witness to the same constellation of antipositiviste ideas, mystical and occult.

Luigi Russolo reveals himself as an artist with a multi-faceted personality who, throughout his life, tried, investigated and perhaps finally found a way to combine harmoniously the distinctly scientific rationality with the charm of the beyond irrational esoteric character and critique of materialism and positivism.