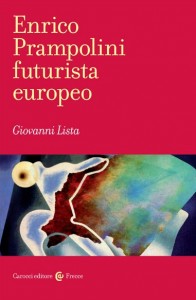 Enrico Prampolini futurista europeo
by Giovanni Lista
Carocci Editore
p.352
ISBN: 9788843069484
Artista futurista di dimensione internazionale, Enrico Prampolini ha vissuto l'avanguardia come tensione verso un rinnovamento totale dei linguaggi dell'arte. Ritracciando la sua lunga e complessa vicenda creativa, dalla sintesi analogica astratta all'arte meccanica, dall'idealismo cosmico al plurimatierismo, il libro ne individua l'evoluzione e i caratteri specifici. Ricostruisce inoltre il suo impegno come artista militante in seno all'avanguardia europea, da Parigi a Praga, da Berlino a Ginevra. Le ricerche di Enrico Prampolini, costantemente sorrette dalla parola innovatrice dei suoi manifesti teorici, corrispondono coerentemente all'immenso ruolo che ha svolto per realizzare l'utopia concreta che era a monte del futurismo: reintrodurre l'Italia nel contesto della modernità internazionale.
++++
Enrico Prampolini, a Futurist artist working internationally, felt the avant-garde impulse to create a total reconstruction of artistic language. This book identifies the evolution and specific characteristics of Prampolini's long and complex career spanning his use of abstract, analog and mechanical synthesis, cosmic idealism, and mixed-media.  His role as an artist-activist within the heart of the European avant-garde, from Paris to Prague, from Berlin to Geneva, is herein explored. Enrico Prampolini's research, supported by his innovative theoretical manifestos, consistently corresponds to the immense role he played in shaping a concrete utopia – the upshot of futurism: to reintroduce Italy in the context of international modernity.