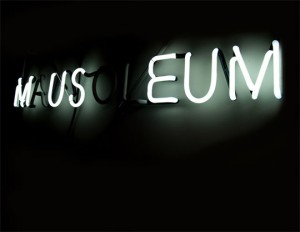 TJ Norris and Scott Wayne Indiana, M_US__EUM, 2007
via D.T. of Pictures That Like Me
Museums: cemeteries!… Identical, surely, in the sinister promiscuity of so many bodies unknown to one another. Museums: public dormitories where one lies forever beside hated or unknown beings. Museums: absurd abattoirs of painters and sculptors ferociously slaughtering each other with color-blows and line-blows, the length of the fought-over walls!
Musei: cimiteri!… Identici, veramente, per la sinistra promiscuità di tanti corpi che non si conoscono. Musei: dormitori pubblici in cui si riposa per sempre accanto ad esseri odiati o ignoti! Musei: assurdi macelli di pittori e scultori che varino trucidandosi ferocemente a colpi di colori e di linee, lungo le pareti contese!
Musées, cimetières!… Identiques vraiment dans leur sinistre coudoiement de corps qui ne se connaissent pas. Dortoirs publics où l'on dort à jamais côte à côte avec des êtres hais ou inconnus. Férocité réciproque des peintres et des sculpteurs s'entre-tuant à coups de lignes et de couleurs dans le même musée.