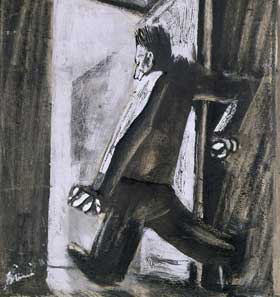 Mario Sironi tra futurismo e metafisica. Quaranta opere dalla Estorick Collection, Londra
October 3 – January 7, 2009
Museo di Icone Russe "F. Bigazzi", Peccioli (Pisa)
Catalog
Per la prima volta in Italia, quaranta opere di Mario Sironi provenienti dalla Estorick Collection of Modern Italian Art di Londra.
In occasione del centenario del primo Manifesto Futurista la Fondazione Peccioliper rende omaggio ad uno dei più noti protagonisti del '900 italiano, con una mostra che attraverso disegni, tempere e oli celebra il ruolo chiave ricoperto dell'artista nella diffusione dei principi fondamentali del Futurismo.
I lavori, realizzati da tra il 1914 e il 1920, saranno esposti a partire dal 3 ottobre presso il Museo delle Icone Russe.
Il fascino e l'importanza dell'innovazione, della velocità, della tecnologia, del movimento e del dinamismo, i concetti che caratterizzano le opere di Sironi presenti in mostra attraverso la presenza di automobili, motociclette, cavalli, aeroplani, paesaggi industriali e soggetti meccanici, tra cui robot e ingranaggi.
La mostra verrà inaugurata il 3 ottobre 2009 in occasione della V edizione della Giornata del Contemporaneo promossa dall'AMACI Associazione Musei Arte Contemporanea Italiani.
Il catalogo della mostra, con testi critici della dott.ssa Roberta Cremoncini, direttrice della Estorick Collection of Modern Italian Art e del prof. Stefano Renzoni, docente presso il Dipartimento di Storia delle Arti dell'Università di Pisa, è edito dalla Fondazione Peccioliper.