I'd never imagined a conversation where it would be declared that "Marinetti thought we could just rub the toast on the butter" but here we are, in the midst of the"Web of the Futurist", 4 episodes which are part of the "Dodge Intrepid" series of radio programs by Mike Rubino and James Catullo. As Mike Rubino says in an article on PittsburghLive.com, "We've taken an obscure modern art movement and embodied it in this villain called The Futurist. It's a hilarious way to learn about the movement and everything it stood for."
Genius.
In "Web of the Futurist," Dodge Intrepid, a librarian-cum-time-traveler, and his intern, Pluck Gumption, battle for their library's honor against their Italian nemesis, The Futurist.
Episodes and updates are available as podcasts on iTunes and via their blog.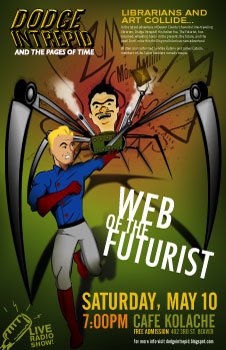 Dodge Intrepid blog
Listen to the Web of the Futurist trailer.mp3
Article on PittsburghLive