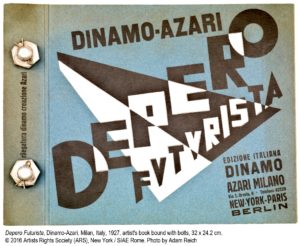 In 1927, the Italian Futurist artist and designer Fortunato Depero created a  monograph of his work unlike anything that had been seen before. Called Depero Futurista, or "Depero the Futurist," it is also known as The Bolted Book, because it is famously bound together by two large industrial aluminum bolts.
Filled with bold typographic experimentation, daring layouts, and featuring work in nearly every artistic and design medium, it is universally recognized as a landmark avant-garde example of the "book as object."
Long unavailable, The Bolted Book is now coming back to print. Designers & Books, the Center for Italian Modern Art in New York (CIMA), and the Museum of Modern and Contemporary Art of Trento and Rovereto, Italy (Mart), which houses the Depero archives, are collaborating to publish a new facsimile edition, which will be the first exact copy of Depero Futurista ever produced since its original publication 90 years ago.
Help us reissue The Bolted Book as it appeared in its original form and return this resonant piece of design history to the present.
About The Bolted Book and Fortunato Depero
Before artists like Andy Warhol blurred the lines between commercial and fine art, before there were zines that questioned the concept of the printed page, Fortunato Depero (Trento, Italy, 1892–1960) created The Bolted Book. A painter, sculptor, and graphic artist, who also produced textiles, furnishings, exposition pavilions, theater props, sets for dance, and children's toys, Depero by 1913 had embraced the modernist movement Futurism, which was marked by a love of the new century's machine-driven technology and "dynamic" motion (represented by cars, trains, and airplanes), coupled with a forceful rejection of past traditions and institutions. With painter Giacomo Balla, in 1915 Depero authored the manifesto "Futurist Reconstruction of the Universe" – whose aim was to re-envision, and re-design, every aspect of the world to make it more exhilarating, to fuse life with art. Depero Futurista, or The Bolted Book, summed up Depero's attempt, over the next decade and a half, to do exactly that, challenging the very structure of the book at the same time.
Published in Milan in 1927 by the painter-aviator Fedele Azari, who on an introductory page described it as "a mechanical book bolted down like an engine," the book was dubbed "a typographical racing car" by Futurism's founder, F. T. Marinetti. Included were reproductions of Depero's drawings, paintings, and sculptures, as well as photographs of exhibition installations of his work, sketches of costumes for the first ballet without human dancers, designs for pillows, and numerous statements, reviews, and manifestos. The book in particular highlights Depero's work in graphic design and typography, including his well-known advertisements for the Italian apéritif Campari, logos, and his "visual-verbal" experiments with type, which aimed to liberate language from conventional rules.
Depero took The Bolted Book with him on his first trip to New York in 1928, where it served as a business card for securing design work and "portable museum" (when the bolts were removed, the pages could be pinned up on a wall, exhibition style). He was the only Futurist ever to live in New York City and while there, he produced graphic designs and covers for publications such as Vogue, Vanity Fair, and The New Yorker.
About The Bolted Book Facsimile Edition
The Bolted Book Facsimile will be an exact copy of the original Depero Futurista, including its unusual binding using bolts and wide variety of highly tactile paper stocks. Accompanying the Facsimile will be a softcover Reader's Guide featuring English translations of key elements of the book; essays by Depero scholars and curators that examine the book's design legacy; a selection of previously unpublished photographs, drawings, and correspondence from the Depero archives at the Mart, Museum of modern and contemporary art of Trento and Rovereto; and a special acknowledgments page with the names of the Kickstarter supporters.
Among the rewards that will be offered to Kickstarter supporters are wooden sculptures and pillows from original Depero designs as well as book totes and t-shirts incorporating Depero logos and art included in The Bolted Book.