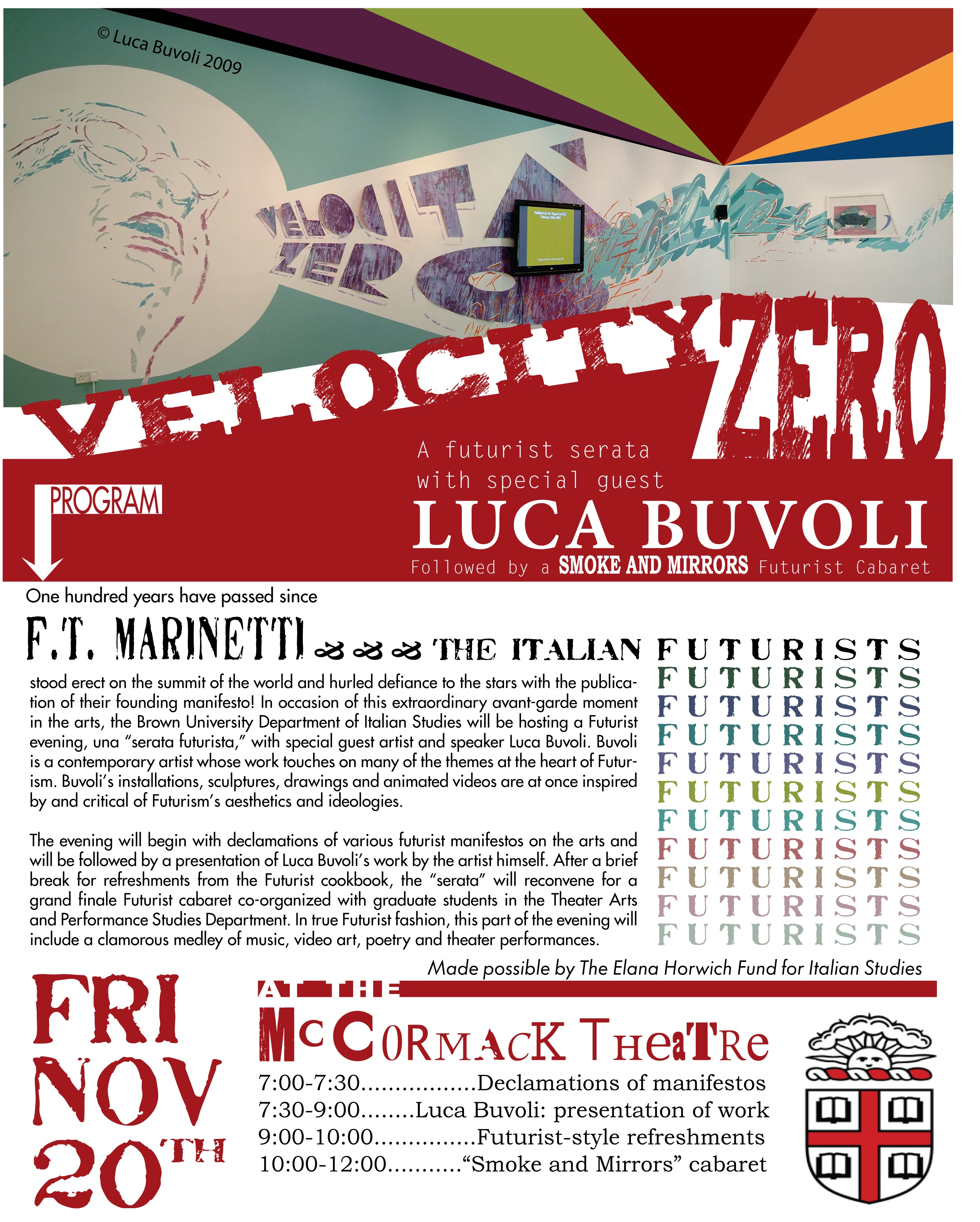 Futurist Serata featuring artist Luca Buvoli
Friday, November 20, 2009, 7-12pm
McCormack Family Theater – Brown University
One hundred years have passed since F.T. Marinetti and the Italian Futurists stood erect on the summit of the world and hurled defiance to the stars with the publication of their founding manifesto! In occasion of this extraordinary avant-garde moment in the arts, the Brown University Department of Italian Studies will be hosting a Futurist evening, una "serata futurista," with special guest artist and speaker Luca Buvoli. Buvoli is a contemporary artist whose work touches on many of the themes at the heart of Futurism. Buvoli's installations, sculptures, drawings and animated videos are at once inspired by and critical of Futurism's aesthetics and ideologies.
The evening will begin with declamations of various futurist manifestos on the arts and will be followed by a presentation of Luca Buvoli's work by the artist himself. After a brief break for refreshments from the Futurist cookbook, the "serata" will reconvene for a grand finale Futurist cabaret co-organized with graduate students in the Theater Arts and Performance Studies Department. In true Futurist fashion, this part of the evening will include a clamorous medley of music, video art, poetry and theater performances.
SCHEDULE
7:00-7:30……… Declamations of manifestos
7:30-9:00……… Luca Buvoli: presentation of work
9:00-10:00 ……..Futurist-style refreshments
10:00-12:00 ……"Smoke and Mirrors" cabaret
Check out my interview with Luca Buvoli here!