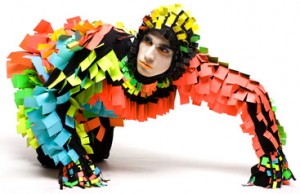 July 4, 2010
3:30pm
Fundacion Proa (Buenos Aires)
Winding down the exhibit The Universe of Futurism, this last weekend closes with the spectacular show Futurist Fashion Today. Fundación Proa has invited to the event Professor Andrea Saltzman (FADU-UBA), along with her Fashion Design course, to reflect on Futurist fashion. The product of this proposal is a fashion show with work from more than 400 students from the course's first, second and third years.
The show Futurist Fashion Today works on the concept of movement and the revolutionary ideas set forth in the Futurist fashion manifesto, published in 1914. From a contemporary vision, this work, which focuses on historical material, actualizes and expands on the most significant aspects of fashion design and the relevance of body language. Fashion accompanies life; it serves as a document of an era.