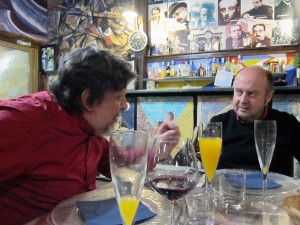 Taverna dei Futuristi
Via Lucrezia Romana, 13
Ciampino RM, Italy
In the Spring of 2013, I was invited to awaken my senses and to enjoy the pleasures of the palate through a futurist-inspired meal at the Taverna dei Futuristi, tucked into the Cinecittà campus in Rome and operated under the auspices of M.I.C.RO. (Movimento Internazionale Culturale Roma). The décor of the cozy tavern is dedicated to the art and design of the Italian Futurists from floor to ceiling, replete with posters, furnishings, and a bolted-book style menu in the manner of Fortunato Depero. The bar is stocked with all the necessary liquors for Futurist-inspired cocktails and the dynamic tasting menu available online indicates the culinary samplings which one may find here.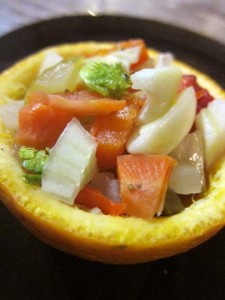 Filippo Tommaso Marinetti and Fillìa's [Luigi Colombo] Manifesto of Futurist Cooking (December 28, 1930, Gazetta del Popolo, Turin) called for a renewal of the table in order to break with previous dining traditions. The Manifesto advocated the use of new electrical appliances and a form of molecular gastronomy to create new flavor sensations. With the aim of the renewal of the body, and in turn, the Italian citizen, Marinetti and Fillìa's call aligned with Fascist ideology of the time. This however is far from the goal of the Taverna, which primarily strives to enhance the appreciation of Italian Futurism and to provide a more complete picture of the richness of the movement. But in keeping with the Manifesto, no pasta was served, lest we lapse into nostalgic lassitude.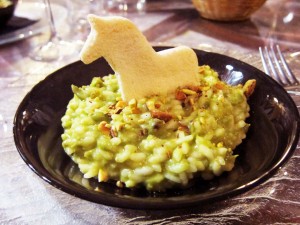 I am grateful to Michele Vaccarella, culinary historian and chef, who prepared an entire vegetarian version for me especially and to Salvatore Carbone of M.I.C.RO. and Maurizio Scudiero (Archivio Depero) for organizing this impromptu dinner. The dishes which we enjoyed mingled a wealth of flavors simultaneously  – not unpleasantly – and the presentation was impeccable. An appetizer was served in hollowed out oranges and little shaped and personalized toasts perched atop a risotto. As a main dish, We had cutlets of some variety served alongside kiwi fruit, onions, and tomatoes. A dessert consisting of a pistachio cream with a rosy center – of what I believe to have  been cherries – was a delicious way to finish off this surprising meal.
The restaurant itself must be reached by car, making it a jewel in a landscape punctuated by film studios and Roman aqueducts. At the Taverna, it is not uncommon for guests to enjoy theatrical displays, musical performances complete and film screenings, though reservations must be made in advance.