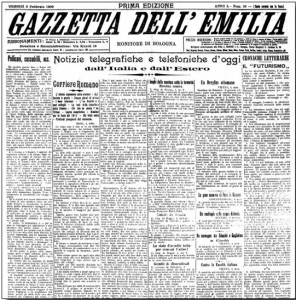 A Brief History of Futurism's First Manifesto
The Founding of Futurism is often said to have occurred on February 20, 1909 with the publication of the Founding and Manifesto of Futurism  in Le Figaro in Paris. Sometimes it's more memorable that way. The truth is that Filippo Tommaso Marinetti was penning this work in late 1908 and in January of 1909 he published the 11-pointed manifesto in both French and Italian versions under the auspices of his journal Poesia (The first edition of which was printed in blue ink by the Poligrafia Italiana in Milan). Marinetti was ready to mail these leaflets out to intellectuals and journalists all over Italy and Europe when there was an earthquake, and subsequent tsunami, in Messina on December 28, 1908. No small event, this earthquake has gone down in history as Europe's worst and killed approximately 100,000 people, decimating small towns across Southern Italy. On account of the papers dedicating themselves to this story, Marinetti decided to postpone his mailing until late January. The first paper to pick up his manifesto was the Gazzetta dell'Emilia in Bologna where it garnered placement on its front page. There were varying versions (which I have listed below), both with and without prologues and sometimes condensed, published before its appearance in Le Figaro. The fact that Marinetti's announcement received pride of place and appeared in this most important of European papers was no doubt due to his relationship with an Egyptian Pasha: Mohammed El Rashi [Rachi], one of the paper's shareholders and a colleague of Marinetti's father.
February 5, 1909: Gazzetta dell'Emilia (Bologna)
February 6, 1909: Il Pungolo (Naples)
February 9, 1909: Gazzetta di Mantova (Mantua); L'Arena (Verona)
February 10, 1909: Piccolo della Sera (Trieste)
February 14, 1909: Tavola Rotonda (Naples)
February 16, 1909: Il Giorno (Naples)
February 16/19, 1909: Democratia (Krakow)
February 20, 1909: Le Figaro (Paris)
If you would like to learn more, here are some resources:
Perloff, Marjorie, The First Futurist Manifesto Revisited," Rett Kopi: Manifesto issue: Dokumenterer Fremtiden (2007)
Tonini, Paolo, I manifesti del Futurismo 1909-1945. Edizioni del Arengario. 2011.