FUTURIST EVENING:
The night of Futurists. Against passeist Warsaw.
[Warszawa. Wieczór futurystyczny w Instytucie Teatralny]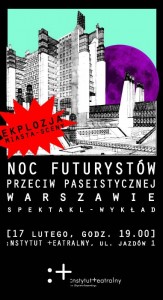 February 17, 2009
Theatre Institute in Warsaw
Organised by Tomasz Kirenczuk and Arkadiusz Tworus
The event takes place also in occasion of the book Od sztuki w dzialaniu do dzialania w sztuce written by Tomasz Kirenczuk related to futurist performance.
Thanks, Przemek!