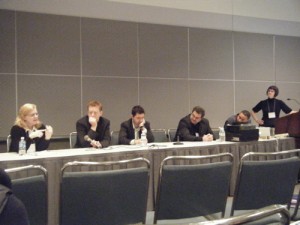 On Friday, February 27, 2009 the College Art Association in Los Angeles included a panel titled 'Italian Futurism, One Hundred Years Later' as part of the week's events. Jennifer Bethke kicked off the morning with a brief talk, excelling in her role as chair.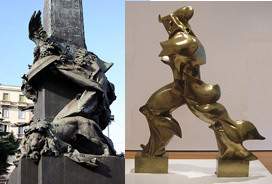 David Gariff from the National Gallery of Art in Washington, D.C. contextualized Futurism by looking backwards to the Milanese Scapigliatura, at the time considered the "art of the future." Gariff used Giuseppe Grandi's Monument to the Five Days of Milan as an example of the influence this work held, especially in relation to the later work by Boccioni.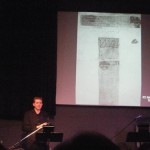 Next, Matthew McLendon, Curator at Cornell Fine Arts Museum at Rollins College, presented his doctoral research regarding Marinetti's use of collage techniques in the creation of his manifestos.  This was surprising to see, and I had never been aware of the way in which Marinetti constructed his work.  Matthew related this collage technique to that which would have been taught to Marinetti during his Jesuit schooling, as the use of this type of extraction and assimilation was one of the Jesuit teaching tools. Both the collaging technique and Marinetti's negation of author and date have been valued as an avant-garde statement. Matthew also delved into the different popular English translations of the Manifestos and why they have now become the definitive versions.
Michelangelo Sabatino, Assistant Professor at Gerald D. Hines College of Architecture at the University of Houston, followed with gorgeous photographs of Capri and discussed the traditional role of stone masons there. Marinetti hade declared Capri a Futurist Island, calling it the ideal Futurist city because the terrain itself resists rational architecture and structure. Here the modern, machine aesthetic is combined with indigenous stone masonry in another example of a contradiction within Futurism, in this case between Futurism and Primitivism. In the end, Michelangelo called for a critical reassessment based on materiality and not the glass, metal and steel of the machine aesthetic, ultimately suggesting a synthesis of tradition and modernity.
Siobhan Conaty, Assistant Professor of Art History at La Salle University in Philadelphia, talked about Futurism's own brand of gender reform and Benedetta's reconciliation of Fascism and Nature within the movement.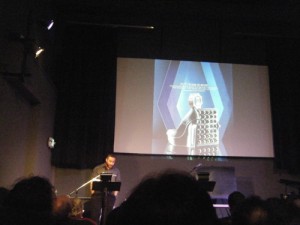 Respondent Ara Merjian, Lauro de Bosis Postdoctoral Fellow at Harvard University and Assistant Professor of Italian Studies at New York University, wrapped up the discussion on Futurism by asking when Modernism starts and when the future ends. Merjian observed the irony of resuscitating a corpse and noted how the day's papers defied Marinetti's plea by referring to Svetlana Alpers' previous comments about the "present moment of the past." Merjian further questioned whether we should be revisiting Futurism with its own spirit or by giving it the blows it wanted. Did Futurism write its own historiography, she asked?
The Q&A afterward was stimulating and the panel fully agreed that what had drawn them to the topic was its own contradictions.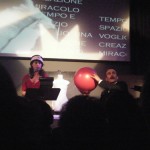 That same evening the panelists reconvened at the beautiful Italian Institute of Culture in Los Angeles for Futurist appetizers. The crowd of about 100 people proceeded to the auditorium for a short film presentation including "The Death Train" and "Outerborough" by Bill Morrison and a fantastically fun and well-acted performance by Benedetta Cappa Marinetti – played by Alessia Patregnani Morricone – and F.T. Marinetti – played by Jon Kellam – which was conducted in both English and Italian.  This performance was followed by abbreviated presentations by the speakers from earlier in the day.  This program preceded a dinner of what was called "Pasta Marinetti" – I was expecting empty plates – which was really simply gnocchi and lasagna.