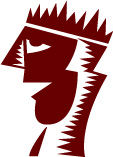 …UNA BELLEZZA NUOVA…
January 15 – 17, 2009
Biblioteca Angelica, Rome
Organized by Gianni Eugenio Viola in collaboration with the Università "la Sapienza" di Roma, the Archivi del Novecento and the Comitato Nazionale per le Celebrazioni del Centenario del Manifesto del Futurismo
Roma, 29 dic. – (Adnkronos/Adnkronos Cultura) -Un convegno di tre giorni, ideato e coordinato da Gianni Eugenio Viola, dal titolo "…Una bellezza nuova…", proporra' una preziosa occasione di confronto sul Futurismo a cento anni dalla nascita, da quel 20 febbraio 1909, quando sulla prima pagina del Figaro apparve a firma di Filippo Tommaso Marinetti, un giovane poeta italiano che gia' si era fatto conoscere in Francia, il primo manifesto del Futurismo.
Al convegno internazionale di studi sul piu' importante movimento d'avanguardia italiano del secolo scorso prenderanno parte, alla Biblioteca Angelica di Roma dal 15 al 17 gennaio 2009, alcuni tra gli studiosi del movimento piu' noti a livello internazionale, con interventi che spazieranno dall'arte, alla letteratura, alla storia, secondo quel concetto di azione futurista, che combinava liberamente poesia, letteratura, musica, danza, azioni verbali, gesti eclatanti e allestimenti scenici, regia e improvvisazione.
Alla giornata d'apertura del convegno, giovedi' 15 gennaio 2009 (ore 15.30) parteciperanno Maurizio Fallace, direttore generale per i Beni Librari; Giuseppe Galasso, presidente del Comitato Nazionale per le Celebrazioni; Vittoria Marinetti; Umberto Carpi; Francesca Bernardini; Gino Agnese. Venerdi' 16 gennaio 2009 (ore 9.30) interverranno Aldo Mastropasqua; Francesco Muzzioli; Simone Magherini; Cecilia Bello Minciacchi,; Mauro Canali; Fausto Curi; Simonetta Lux; Gunther Berghaus; Matteo D'Ambrosio; Cristina Benussi; mentre sabato 17 gennaio 2009 (ore 9.30) tra i relatori Alberto Olivetti; Gianni Eugenio Viola; Wladimir Krysinski; Antonio Rava; Enrico Crispolti. Gli atti del convegno saranno pubblicati nella collana di studi sulle avanguardie del Novecento dalle edizioni "Biblioteca Orfeo" di Roma.