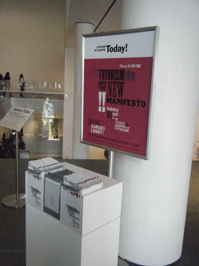 On Friday, February 20th – the anniversary of the publication in Le Figaro of the Founding Manifesto of Futurism, I spent the early afternoon at MoMA enjoying Laura Beiles's programming of a day full of activity in the Garden Lobby as part of MoMA's Modern Poets series. Readings by poets were interspersed with Luca Buvoli's futurist-inspired video piece, Velocity Zero (2007). The day began with the Founding and Manifesto read energetically by Charles Bernstein and continued at half-hour intervals for 3 1/2 hours. Other poets included A.E. Stallings, Joshua Mehigan, and Thomas Sayers Ellis. Guests were invited to preview the new issue of Poetry Magazine, dedicated to the movement, as well as MoMA's gorgeously designed program (printed on one side with the Manifesto).  Also present was a small booklet by Luca Buvoli, wherein the 11 tenants of the Manifesto had been dictated and handwritten.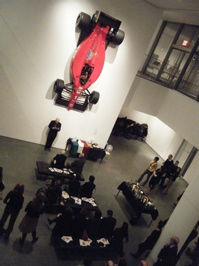 The evening concluded with a private reception in the mezzanine of the Education and Research Building, where the exhibit, also curated by Laura Beiles, was on display. Words in Freedom: Futurism at 100 is a wonderful, carefully culled show which displays some unique and interesting pieces from MoMA's archives and library special collections, along with audio and video displays. At the reception, guests, including Agnes Gund, enjoyed futurist appetizers on display before Charles Bernstein read again the Founding Manifesto (appropriately, he read from beneath an Italian car on display).
Afterwards, I had to jet out to the Performa Banquet a few blocks away, feeling quite lucky that at least there was one exhibit on Futurism in all of New York. Check out my review of that event here.
For another review of the celebration at MoMA, please visit the Nomadics blog by Pierre Joris here with great pictures of the event. Or see the minute-by-minute review and pictures by Rodrigo Toscano via The Poetry Foundation.
*special thanks to Laura!