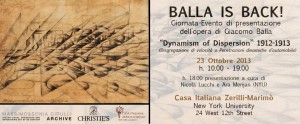 ALL-DAY SPECIAL VIEWING: BALLA IS BACK!
Giacomo Balla's "Penetrazioni dinamiche d'automobile" on view for one day only!
October 23, 2013 ( 10:00 AM – 07:00 PM )
Casa Italiana Zerilli-Marimò (NYC)
Casa Italiana invites art scholars and enthusiasts to a landmark viewing of an important and long-forgotten Futurist work by Giacomo Balla, Penetrazioni dinamiche d'automobile (1912-13).
Last on view in the United States during the 1915 Panama-Pacific International Exposition in San Francisco, the iconic work of art plays a fundamental role in Balla's dynamic contribution to Futurist aesthetics.
This special exhibit has been organized by Andreas Rumbler (Christie's New York) and Massimo Cirulli (Massimo & Sonia Cirulli Archive).
10:00am – 7:00pm: All-day special viewing
6:00pm: Painting presentation by Nicola Lucchi, followed by refreshments.
In ENGLISH.
[This work is up for sale at Christie's New York Impressionist & Modern Evening Sale on November 5, 2013. Estimate is $3,000,000 – $5,000,000]