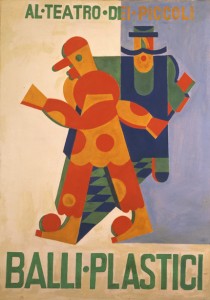 A CONVERSATION ON FORTUNATO DEPERO'S MARIONETTE THEATER
with acclaimed puppeteer Dan Hurlin
Wednesday, March 26, 2014
6:00pm
CIMA (The Center for Italian Modern Art)
421 Broome Street, 4th Floor, NYC
The Center for Italian Modern Art (CIMA) and the Society of Fellows of the American Academy of Rome are pleased to present a program featuring acclaimed puppeteer Dan Hurlin, currently the Jesse Howard Jr. Rome Prize Fellow at the American Academy in Rome, in conversation with Jessica Palmieri (ItalianFuturism.org) and Raffaele Bedarida (Fellow, CIMA).
Join us on March 26, 2014, 6-8 pm for a conversation about the toys and automata that populated the imagination of the Italian Futurist Fortunato Depero, as we explore the genesis of Depero's 1918 collaboration with the Swiss Egyptologist and writer Gilbert Clavel, Balli Plastici (Plastic Ballets). Like other Futurist artists, Depero celebrated technology, speed, and the machine, but in dialogue with Clavel he developed an original formula where the mechanical met the fantastical. Ballet, as the perfect "total work of art," had a central role during the second half of the 1910s in European avant-gardes. By introducing a ballet with no human dancers, Depero and Clavel anticipated important developments of the following decade.

The program will be focused on the subject of CIMA's inaugural installation: the Futurist Fortunato Depero, whose paintings, sculptures, tapestries, collages, and other works on paper will be on view at CIMA until June 28. The program is part of CIMA's ongoing efforts to support scholarship and advance dialogue around Italian modern art.